Majestic Wine's profit was flat at £23.8m in what it described as a "difficult trading year". Retail Week looks at what the analysts said.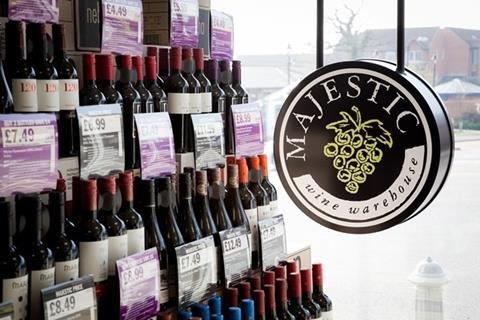 Majestic's forward strategy of growing its store estate (it is currently targeting 300 stores across the UK, up from the 206 it operates today) and its renewed focus on business customers should certainly help drive total sales growth over the next few years.
Getting more from existing stores is also important and here Majestic's strategy of educating and enthusing customers through wine tastings is a sensible way of underlining its specialist credentials and generating loyalty.
The real opportunity, however, lies in multichannel. Here it was disappointing that Majestic only managed to attain 5.8% growth in online sales across the year. In our view, this should be a great deal higher and at its current rate suggests that Majestic has lost share of the online market.
The plans to invest in technology and logistics should help ease this number up over the next few years, but given the competition in the online market Majestic will need to be nimble to take advantage. Overall, we remain confident that Majestic can continue to hold its own in a competitive market and that its future plans will inject a little more fizz into the business. - Neil Saunders, Conlumino
A weaker core UK Majestic warehouse performance was exacerbated by infrastructure investment (new head office and distribution centre), a further fall in wholesale sales to £3.2m (last year £5.8m) as Majestic withdraws from this area, and a fall in its fine wine specialist Lay & Wheeler's sales to £14.3m (last year £17.3m) after another unexciting Bordeaux vintage.
On the positive side, commercial managed sales up 20.6% to £37.3m and online up 5.8% to £27.7m (11.4% of sales). We assume 12 new stores a year versus 14 previously as management becomes highly selective with locations. [The full-year '16 forecast] should benefit from a £750,000 reversal of distribution double running costs, though the share option charge is likely to be higher as growth recovers. - Kate Calvert, Investec
Full-year 2014 results were in line with lowered guidance issued on March 20. No numbers on current trade, but management alludes to 'continuing subdued market conditions'. We do not expect any material changes to consensus today as management accelerates its investment in the business. There is a strong underlying business here that is fixable. But at this valuation, we need to see signs of meaningful recovery before turning more positive. - Sanjay Vidyarthi, Liberum
Majestic Wine profits flat during 'difficult' year as it vows to invest
1

2

Currently reading

Majestic Wine's full-year results: What the analysts say