Lush has reported like-for-like sales jumped 9.1% in 2014 after expanding into emerging markets around the world.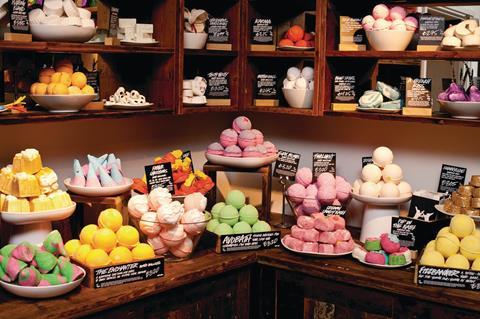 The ethical beauty retailer's sales and pre-tax profits both increased 8%, after generating turnover of £454.1m with a pre-tax profit of £23.3m for the year ending June 30. The company, which sells handmade soaps and cosmetics, increased earnings by focussing on emerging markets and closing underperforming stores.
The profit figure was calculated after giving £3.8m to charities, which meant donations given out by Lush were up 31% on last year.
Bosses said sales were boosted after opening new stores in Hong Kong, the Middle East and Brazil, where it launched a flagship store in Sao Paulo.
The retailer also continued its aggressive expansion in the US, where it opened 25 shops, taking its portfolio in the country to 153 shops.
Online revenues were also boosted by a Christmas sales surge, which saw like-for-likes rocket 49% in the final quarter.
But Lush experienced a profit slump in Japan, with earnings down by £5.6m to £5.3m.
Lush boss Mark Constantine said the retailer's 2014 strategy focused on "seeking sites in prime locations with higher turnover potential, making strategic relocations and closing loss-making shops."
Lush opened 66 new stores and closed 62 loss-making sites last year. It now has a portfolio of 105 stores in the UK and 898 stores in 49 countries around the world.
As part of its strategy to focus on profit-making stores, Constantine said: "We have acquired a 10,000 square foot store on Oxford Street in London's West End, Europe's busiest shopping street. The store is scheduled to be open by March 2015."
Lush have also become the first multi-national retailer to be awarded the "Fair Tax Mark" accreditation. Lush voluntarily reports the amount of tax it pays in each country.
The company has maintained its ethical values, donating £3.8m to charities and other good causes this year, up by 31%.