John Lewis sales rose 3% for the week ending January 24 as shoppers rushed to snap up items in the retailer's new spring and summer range.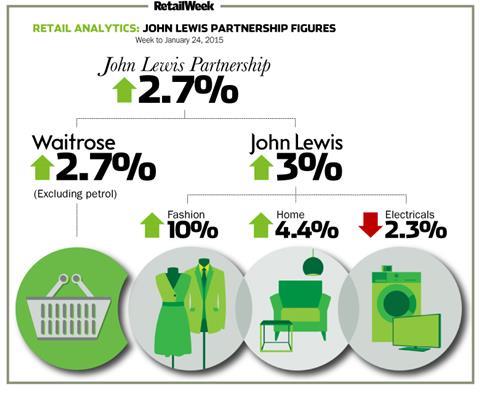 Sales in fashion were up 10% on the week compared with the same time last year, while bosses also noted a "stand-out" performance in sales of toys, which rose 6.4%.
Homewares also produced robust sales, finishing the week up 4.4%. That figure was driven by a 30% rise in beds and mattresses.
Online sales increased 15.9%, accounting for 34% of total sales.
Mark Blundell, head of retail change at John Lewis, said: "As we enter the final week of the trading year, the focus remains on delivering an exceptional customer experience and positive sales growth through a seamless omnichannel proposition.
"This is clearly evidenced through inspirational visual merchandising displays, pop-up shops and online advertising, all providing a fantastic showcase for our new spring/summer season assortments."
Meanwhile, sister retailer Waitrose reported a 2.7% jump in sales as the cold weather saw shoppers stock up on hearty meals and hot drinks.