Electricals retailer Comet has unveiled a wide-ranging rebranding encompassing a new logo, strapline and in-store approach designed to put clear blue water between itself and rivals Dixons Retail and Best Buy.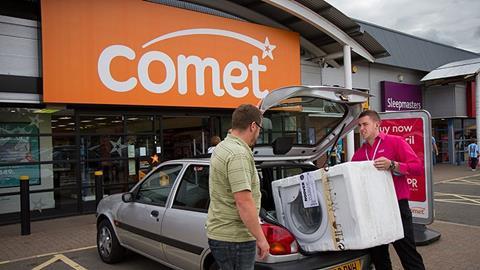 Comet, owned by Anglo-French group Kesa, will promote the changes with a TV ad campaign airing on Wednesday during the European Champions League game on ITV.
The retailer has adopted the tagline 'Come and play', intended to differentiate it by emphasising features such as friendliness, accessibility and fun rather than traditional electricals retail characteristics such as product attributes and price.
Comet chiefs believe their mid-sized stores, in contrast to rivals' big warehouses, are well placed to benefit from such a positioning as shoppers seek welcoming, unintimidating service as they navigate the complexities of an increasingly technological world.
The changes will be reflected in-store, where staff will abandon ties as part of the push to create a relaxed atmosphere, and products will be ranged by use rather than by broad category - cooking, for instance will be replaced with labels such as bake, boil or grill.
Comet's traditional corporate colours, black and gold, will be replaced on fascias with an updated 'softer' orange-on-white logo reflecting the shift inside. The new look will be installed in about 100 of Comet's 250 stores by Christmas and a raft of improvements will be introduced to its website.
Comet commercial director Bob Darke said many electricals retailers do not score well on soft values, despite their importance to consumers. He said: "There's nobody in that space, especially when the competition is going for bigger and bigger sheds. Electricals are a big scary purchase for some people. More than anyone, we are very well placed to do friendly and fun."
The initiative comes in the context of rapid change in electricals retail. US giant Best Buy launched in the UK earlier this year and aims to transform service standards. Market leader Dixons, owner of Currys and PC World, has also raised the bar on service as part of a renewal and transformation programme, and its adoption of its megastore format has improved performance.
Kesa will update on first-quarter trading next Thursday.