The two-minute campaign, set to a cover version of One Day I'll Fly Away by British band Vaults, tells the make-believe story of Buster the Boxer dog and his family.
The advert opens to a Christmas Eve scene of a little girl, called Bridget, bouncing on her bed as Buster looks on.
As Bridget sleeps, her parents assemble her Christmas present – a trampoline.
That night, Buster observes a cast of wildlife – including a pair of foxes, a badger, a squirrel and a hedgehog – discover the trampoline and begin to play on it.
On Christmas morning, as Bridget runs outside to see the trampoline, Buster leaps in front of her to bounce on it first, as she and her parents look in astonishment.
The advert will launch on social media, with the hashtag #BustertheBoxer, and on Sky this morning.

Its first terrestrial TV screening will be aired this evening at about 9:15pm on ITV.
It was directed by Dougal Wilson, who also directed the previous John Lewis Christmas ads – 2011's The Long Wait, 2012's The Journey, and 2014's Monty's Christmas.
As the advert features some of Britain's most well known wildlife, John Lewis has chosen The Wildlife Trusts to be its Christmas campaign charity partner, and will donate a portion of its sales from the soft toy characters of the advert to the charity.
John Lewis customer director Craig Inglis said: "2016 has certainly been quite a year, so we hope our advert will make people smile. It really embraces a sense of fun and magic, reminding everyone what it feels to give the perfect gift at Christmas.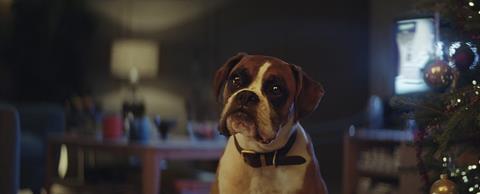 The retailer's flagship store on London's Oxford Street will offer a virtual-reality Oculus Rift experience, while a 360 experience will also be available using 3D-viewer Google Cardboard.
On social media, John Lewis will partner with Snapchat to create a lens, available until midnight tonight, that will transform users into Buster the Boxer.
Throughout December, customers visiting any John Lewis store will be able to apply a Snapchat Buster the Boxer filter to any of the pictures they take in store.
And until this Sunday, Twitter users will be able to use bespoke stickers to customise photos.