DIY retailer Wickes made market share gains in the 26 weeks to June 30.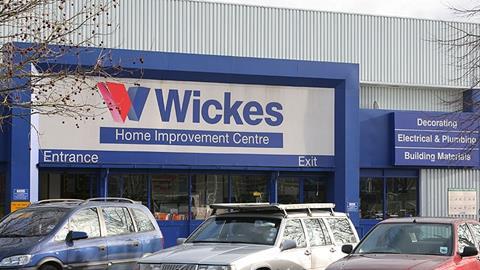 However, parent Travis Perkins still posted a like-for-like sales dip of 0.4% at its retail arm, largely comprising Wickes.
In the most recent nine-week period, the retail arm's like-for-likes grew 1.6% and over the 26-week period, total revenue increased 2.1%. Wickes maintained gross margins over the period.
Wickes managing director Jeremy Bird said "it's not a particularly buoyant market by any means" but that its performance was "better than the market".
He said: "We're pretty pleased with that.
"The share growth has come from doing the simple stuff really well."
The new trial format, Wickes Kitchen & Bathroom (Retail Week, April 1), is performing a "little ahead of expectations" he said and "a few more sites" are being sought. New locations could be signed in "the next month or so".
Bird said that "there are still big holes" in the market resulting from the demise of MFI that Wickes is benefiting from.