In a multichannel world, creating price transparency and protecting brand value has never been more important, as retailers discussed at a Retail Week and SAS roundtable.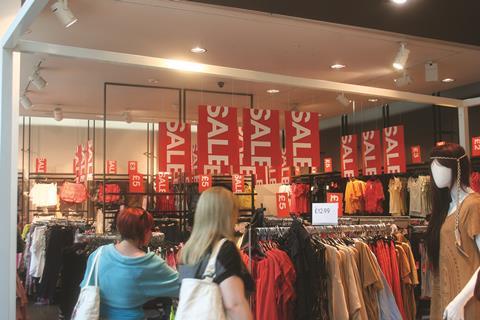 To think that a modern fashion chain might only sell 30% of its stock in its stores would have been perplexing a decade ago. The store – once the life and soul of a retail business – has become not much more than a physical signpost for the brand online. Stock is spread far and wide; from the traditional shopfloor to a complex home delivery network, click-and-collect points and, increasingly, overseas.
Pricing defines a brand and its identity in the minds of consumers, and with so many channels all operating concurrently, keeping control of this is a big task.
Last month, leading retailers from some of the UK's most well-known brands gathered at a roundtable discussion co-hosted by Retail Week and business analytics software and services provider SAS to share opinions on the evolution of pricing and promotions in a multichannel retail environment.
Protecting brand value
With so much stock in circulation, often travelling through the entire infrastructure of multiple channels in a matter of hours, keeping tabs on quantity, quality and value can be a major challenge for fast fashion retailers.
One key concern for the retailers at the roundtable was how to protect their brands, no matter what channel consumers choose to shop. With so many options a click away, ecommerce retailing has weakened shoppers' sense of brand loyalty, particularly in the ruthlessly competitive arena of fast fashion. Price, more than branding, dictates the way this generation shops.
A fixation on discounting and value – partly born out of the huge success of retailers such as Primark – has given customers more choice than ever before. But at what price? Retailers have been forced to drive down their own central fixed costs as much as possible, often at the expense of fabrics and materials, the roundtable heard.
Discounting used to be structured and restrained, now it is an all-year-round preoccupation. With pressure from discounters forcing fashion brands to be even more reductive, markdowns look set to be the rule rather than the exception for some time.
But these markdowns can be much more sophisticated and controlled if retailers have a better understanding of their data, according to Andrew Fowkes, solutions director at SAS.
"At the moment you might have merchandisers scrabbling around to find that data, but if you have a clear picture of your stock you can make changes to the price," he says. "It's intelligence based on data. It could turn out, for example, that it would be more effective to move stock from one channel to another, or sell it wholesale."
Controlling your stock is clearly key, but there is also another mass of data that needs analysis – that of your competition. There's no point in having a grip on your own pricing if you aren't aware how it stacks up against the competition, Fowkes says.
There was a consensus at the roundtable that the challenge is to pick through that data in real time and make sense of it. Smart use of data intelligence, the group said, should mean retailers can make more of their differentials other than just price, such as extended warranty, service and support. By doing so the industry will avoid a dangerous race to the bottom on cost, the roundtable agreed.
Importance of single stock view
The UK fashion market might be dense with top brands vying for the same spend, but the winners will be those that have a proper, single view of their stock, Fowkes believes. He says: "There have been multi-million pound decisions made based on a few spreadsheets. Retailers need proper information audits and visual analytics in place to really understand how much stock they have and how it should be priced." Fowkes adds that SAS is working with grocers on using customer data to personalise price and offers, and that this system could be used by fashion retailers.
One argument raised at the roundtable was that there is too much stock in circulation for any meaningful pricing and value building to be maintained. One of the key debates was whether companies should be taking the bold strategic decision to limit their own volumes in circulation in order to make sure long-term values rise.
From a customer service point of view this would require a complete rethink in terms of training. Shoppers have got used to always having plenty of options on shelves bulging with stock. Scaling this back, at least at first, would involve retraining staff to explain how customers can get stock when it has sold out, and positively reinforce the message that it has sold out because of high demand.
Retailers need to accept merchandising and pricing strategies have to change. Fashion businesses have become more complex, shoppers are more discriminating and supply chains are evolving into complex, global chains. In the 21st century this needs to be matched by data-driven decisions to make sure the price is right.
Advertising feature
SAS has more than 35 years experience of providing access to relevant, reliable and consistent information. To find out more, go to www.sas.com/uk