Target is holding an open house to showcase a new product category – and the address says as much about its priorities as the items on display.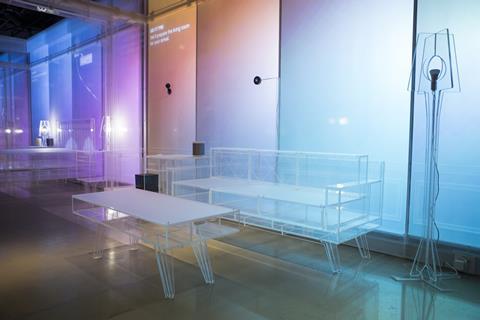 Situated in downtown San Francisco, 2,000 miles from Target's Minneapolis headquarters, the open house is a clear sign of chief executive Brian Cornell's interest in the tech sector – specifically, the so-called internet of things (IoT), which includes web-connected smart coffee makers, garage doors, speakers, and similar devices.
Target's San Francisco open house, which serves as both a showcase and a real store, is an opportunity for a few influential consumers to get a closer look at these products.
Laid out by design firm Local Projects, Target's open house resembles an actual house – a San Francisco Victorian, to be exact, with bay windows and a motorcycle in the garage, all made from translucent acrylic that gives the space a futuristic feel.
From the entrance, visitors will first come across a mock kitchen, which features IoT adaptations of familiar items like a Crock-Pot and a Mr Coffee machine alongside more novel products like Drop (a smart kitchen scale) and Wemo (a smart electrical outlet).
It is an important distinction for retailers and marketers seeking to promote IoT products.
In the case of familiar products, like the smart Crock-Pot or the Sonos smart speakers, the challenge for retailers will simply be to convince consumers that the ability to control these products from their phones is worth a higher price than the equivalent item they already use.
Sooner or later, the world's existing slow cookers will wear out and consumers will need to replace them.
Challenge to convince consumers
The greater challenge will be introducing shoppers to entirely new product categories created by the internet of things.
For example, Planet Retail couldn't immediately think of a use for 94Fifty's smart basketball – some quick research shows that the ball's sensor communicates with an app to track the trajectory of a player's shots, but this information would only be useful to serious athletes. And at $179.95, this is not a marginal upsell – it's a fundamentally different product from a conventional $30 basketball.
The same is true of Mimo, a smart onesie for infants. Mimo 'kimonos' contain sensors that monitor a child's breathing, body position, sleep activity, and skin temperature. This information is relayed to an app for parents to monitor.
Again, the high cost of Mimo – $199.99 for three kimonos, or $67 per garment, compared with as little as $1.50 for an ordinary onesie – will make it hard for parents to see the value in tracking their baby's status so closely.
In general, the true promise of the internet of things is not just that we can communicate with our appliances from afar, but that those appliances can communicate with each other. This facet was on full display at the open house.
Besides triggering her parents' alarm clock, our Mimo baby's crying also switched on a smart Hue light bulb, some soothing music on a Sonos speaker and, amusingly, Mr. Coffee's smart coffee maker in the kitchen.
But surely the Internet of Things must do more than hit a few 'on' switches in the morning.