Boots pledges its Nottingham home will be key hub for research and development following the retailer's landmark deal with US giant Walgreens.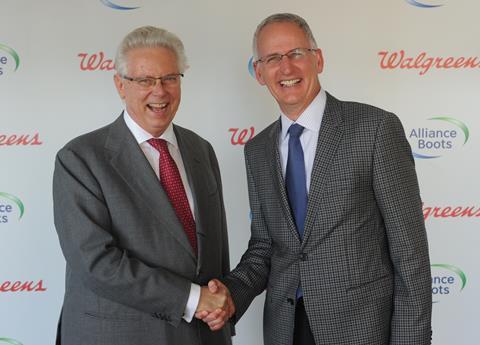 Alliance Boots' Nottingham home is to become the global centre of cutting-edge health and beauty product innovation under the new tie-up with US powerhouse Walgreens.
Boots' campus, where flagship own-brand products such as No7 and Soltan are created, will be the key research and development hub for the enlarged business – testament to the depth of expertise at the UK retailer and wholesaler that made it such an attractive partner for Walgreens and indicative of its equal status in the partnership.
Alliance Boots chief executive of health and beauty Alex Gourlay told Retail Week: "The head office site is part of an enterprise zone and we're working up a plan to make it a hub for health and beauty product and technical innovation, not just for Boots but for the whole supply chain and our partners. Nottingham is the heart of Boots – always has been and always will be."
Executive chairman Stefano Pessina said: "I want Nottingham to be the window to the world for health and wellness."
They made their comments as details were disclosed of the deal with Walgreens, which is taking a 45% stake in Alliance Boots and is expected to buy the outstanding shareholding from Pessina and private equity firm KKR in three years.
Pessina will have an 8% stake in the enlarged business initially and is expected to become the biggest shareholder in Walgreens when the second phase of the transaction is completed.
The deal realised Pessina's ambition to pull off a "transformational" deal, creating a business with more than 11,000 stores in 12 countries, a wholesale and distribution network operating in 21 countries and increased potential to exploit the power of brands such as No7.
Boots products will be sold across Walgreens' 8,000 drugstores in 50 US states.
Gourlay said UK customers would not see obvious changes to Boots stores. "The brands are very clear that there is Boots in the UK and Walgreens in America," he said.
Gourlay said that when it comes to expanding into new territories the newly formed group will decide on a case-by-case basis which brand it will launch in what country.
DETAILS OF THE DEAL
Walgreens acquired 45% of Alliance Boots for $6.7bn (£4.3bn) in cash and stock
Walgreens could purchase the remaining 55% within three years, valued at $9.5bn (£6bn)
The companies plan to share expertise and partners; create a healthcare platform to better serve people around the world; and enable better buying power
Synergies of $100m (£63m) to $150m (£95m) are anticipated in the first year and $1bn (£636m) by the end of 2016
WALGREENS
7,890 drugstores in the US
Revenue: $72.2bn (£46bn)
Operating income: $4.4bn (£2.8bn)
Net profit: $2.7bn (£1.7bn)
ALLIANCE BOOTS
3,330 health and beauty stores
625 optical practices
Revenue: £25.4bn
EBITDA: £1.6bn
Trading profit: £1.3bn