Supermarkets have been accused of offering more "misleading" price deals, less than a month after Which? lodged a super-complaint against grocers.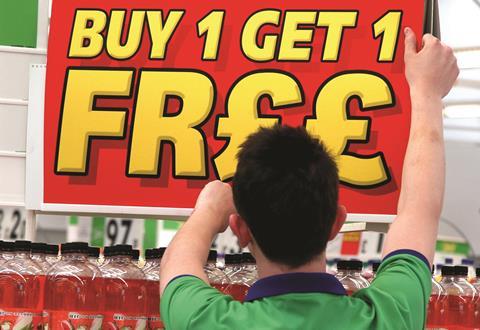 Which? reveals more examples of 'dodgy' pricing offers
Misleading multibuys and shrinking products found in big four grocers
Which? has already launched a super-complaint with watchdogs
The consumer group said it has uncovered more examples of "dodgy special offers" being used in supermarkets across the UK, some of which "appear to be breaking government guidelines."
Which? said it found examples of offer prices being available to shoppers for longer than the "normal price". It gave an example of Morrisons selling a two litre bottle of Pepsi Max for £1.98 for 28 days, but then went on a £1 "was £1.98" deal for 63 days.
The group went on to highlight a case at Tesco, where a box of Twinings tea bags increased in price from £4.40 to £4.49, even though the number of bags in the box dropped from 100 to 80. In Sainsbury's the price of the tea bags remained the same, at £4.50, despite the reduced number.
Which? also discovered products on multibuy offers that didn't actually save customers money. It pointed to an example in Asda, which increased the price of Robinsons orange squash from £1 to as much as £1.59 while on a two for £2.50 deal, "creating the illusion of a saving" when the two bottles would actually cost shoppers 50p more.
"Retailers are continuing to pull the wool over shoppers' eyes with dodgy discounts that just don't stack up"

Richard Lloyd, Which?
The latest examples came a month after Which? used its legal powers to issue a so-called 'super-complaint' against grocers, accusing retailers of ripping off shoppers with "misleading" and "confusing" prices.
That move meant the Competition and Markets Authority (CMA) had 90 days to examine a dossier of evidence, which has been gathered by Which? over a seven-year period, and issue a response.
It could lead to a formal inquiry or even the passing of new legislation.
Industry body the British Retail Consortium (BRC) has challenged the super-complaint, claiming there is no problem in pricing. But government guidance says any special offers should not be misleading and any higher price should be genuine.
Which? said its Put an End to Misleading Pricing campaign has now been supported by more than 63,000 people.
The group's executive director Richard Lloyd said: "Retailers are continuing to pull the wool over shoppers' eyes with dodgy discounts that just don't stack up. Our super-complaint has the backing of tens of thousands of concerned shoppers and is calling on the regulator to take action to put an end to misleading pricing practices."