Fenwick has had the past 14 years to mull over what its next generation of department stores will look like – and the result doesn't disappoint. 
The new, three-storey store in Bracknell offers beauty, womenswear, menswear and childrenswear, as well as an experiential toy store.
On the ground floor, a cavernous, all-white beauty hall is punctuated by a modern take on the towering Art Deco pillars typically associated with traditional department stores. But that's where the nod to the past ends.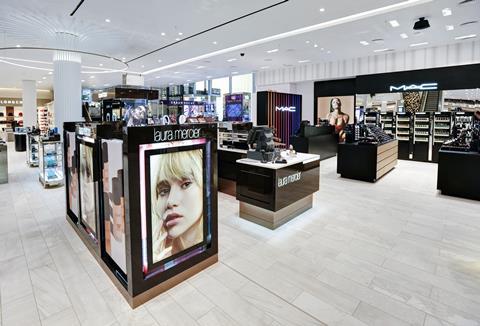 High-end digital screens are suspended on the walls that surround the central escalators, flashing up cinematic adverts for the various luxury brands in-store, while upstairs in the wine shop a machine dispenses samples at the touch of a button.
It's the kind of offer you'd expect to come across in the West End or a major city, not in commuter-belt Berkshire.
Bracknell, while ideally placed for an affluent customer base of commuters and their families, has been much-maligned since it was designated a New Town in the aftermath of World War Two.
"It's a fantastic opportunity to look at our offer and see how we, as a department store, should look for the next 10 or 20 years"

Hugo Fenwick
But a £750m regeneration project to completely redevelop the town centre persuaded Fenwick to anchor the accompanying new shopping centre, The Lexicon.
"We love to be involved in place-making, wherever we can," retail director Hugo Fenwick asserts. "To be involved at the earliest stage of the build is ideal."
"It was always pretty grim so they have done a huge amounting of landscaping," he says. "And since it's the first one [Fenwick store] in a long time, it's a fantastic opportunity to look at our offer and see how we, as a department store, should look for the next 10 or 20 years."
Eating in
A big part of that new look is the addition of restaurants. Fenwick has taken inspiration from its new food hall, which features five restaurants, at its original Newcastle flagship, and this new store includes two of its most popular offerings.
Unlike the majority of department store chains which are working to get rid of space and hand the responsibility of sales per sq ft to a third party, Fenwick's new restaurants are all its own.
While the business still partners with Carluccio's and Caffè Nero, it is increasingly looking to bring its restaurant offer in-house.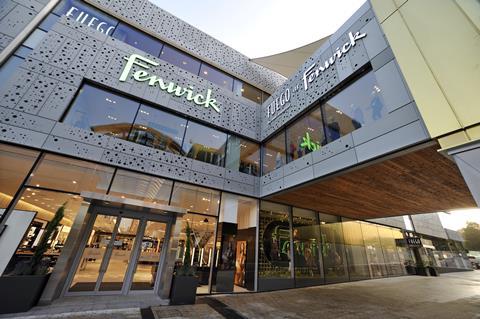 At Bracknell that means an upmarket patisserie and café on the ground floor and a tapas and wine bar on the top floor, both open until 8pm.
The patisserie and café, Mason & Rye, looks like any trendy deli or café might – except that it's situated on the corner of the Fenwick beauty hall.
On the lunch and breakfast menus are salads, fish of the day and the ever-in-demand avocado toast, as well as a host of delicate patisserie products such as macaroons topped with edible flowers.
"We have taken over much more of our restaurant activity because it is so important to the future of department stores"

Hugo Fenwick
And upstairs at wine and tapas bar Fuego, dishes such as fried Monte Enebro goats cheese with orange blossom honey and peach and burrata salad vie for customers' appetites alongside Negroni cocktails and a considerable wine list.
Caffè Nero it isn't.
"It's becoming so important to us that we offer the right experience and excitement in our restaurants," Fenwick says. "We have taken over much more of our restaurant activity because it is so important to the future of department stores.
"Restaurants need theatre these days. All those restaurants in Newcastle, and we hope here, are places where there is a buzz."
Hugo says that Fenwick is likely to roll out its Newcastle food hall. "It really has been a huge success," he affirms.
The next-generation customer
"Product is of course still massively important, but unless we layer on an exciting experience, and often after store closing hours, we are not enticing a millennial customer as much as we need to," he adds.
And Fenwick is definitely focused on that millennial customer.
Mason & Rye is branded 'Instagrammable', while cult skincare brand The Ordinary is, Hugo says, one of the website's most-searched terms.
"We need to keep a close eye on the millennial generation coming through, they are our next 'affluent customers'," he answers when asked what the archetypal Fenwick customer is thinking.
"We are most successful when we can get new product in and find those new brands that are exciting the online world."
Of course, Fenwick is not yet part of that online world. While its website looks sleek and features good-quality editorial, it is not transactional.
Hugo says it will be transactional by the end of 2018.
"We are having a huge push to ensure that our IT infrastructure is sufficiently resilient for today's customer," he explains. "What we don't want to do is go online and for our customer service not to live up to what we would provide in-store.
"Fenwick has always had a good reputation on that and we want to ensure that that is seamless online and offline, with no hiccups."
Leaving the store as Hugo addresses its staff for the final time before opening, there seems little doubt that Fenwick's reputation will remain perfectly in tact – it's not every retailer that offers its customers Instagrammable macaroons, after all.