Debenhams boss Michael Sharp will step down from his role at the department store chain in 2016 after five years as chief executive.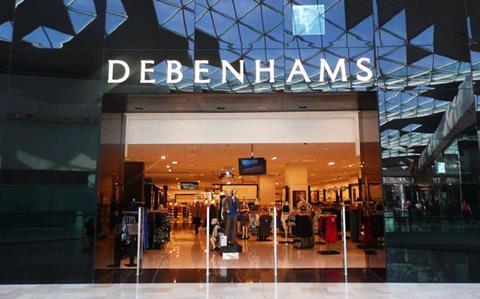 Michael Sharp to leave Debenhams in 2016 after five years as boss
Sharp says it is "the right time" to step down
Comes after speculation surrounding his future and a boardroom coup
Debenhams reveals full-year pre-tax profits rise 7.3% to £113.5m
The retailer said it had "always" been Sharp's intention to serve a five-year term at the helm and that he believed it was "the right time" to step aside.
Sharp will remain in place as boss during the Christmas trading period and into 2016 "to ensure an orderly and smooth handover to his successor", Debenhams said.
He will also assist the board in the process of identifying his successor, which will "evaluate internal and external candidates".
Profits rise
Sharp's departure was revealed as Debenhams unveiled a 7.3% rise in full-year pre-tax profits to £113.5m, in line with market expectations. Group like-for-like sales were up 2.1% on a constant currency basis as sales edged up 1.3% to £2.86bn during the 52 weeks ending August 29.
The retailer also unveiled plans to enter the Australian market in a joint venture with Pepkor SE Asia, a subsidiary of the Steinhoff Group, and will sell selected Debenhams brands with Vietnamese department store VinGroup.
Revealing his intention to step down, Sharp said: "It is a privilege to lead Debenhams and I am very proud of our achievements since September 2011. I believe Debenhams is now capable of competing in the ever changing and challenging world of multichannel retailing.
"I accepted the job of chief executive with the intention of spending five years in the role and although it will be difficult to leave a fabulous company like Debenhams, now is the right time for the board to begin the process of identifying my successor."
"It is a privilege to lead Debenhams and I am very proud of our achievements since September 2011."

Michael Sharp, Debenhams
Sharp's decision comes following what he called "recent speculation" about his future. City stockbroking firm Cenkos Securities is reportedly attempting to spark an investor rebellion and is believed to have approached a number of large shareholders about deposing both Sharp and chairman Nigel Northridge.
Sharp added: "We have a strong and talented management team and I would like to thank them and our 30,000 colleagues for their continuing support, hard work and passion.
"I hope being transparent about my intentions will stop recent speculation becoming a distraction, allowing me and the Debenhams team to focus on delivering our strategy and the important Christmas trading period."
Confident on growth
Debenhams chairman Northridge added: "On behalf of the board I would like to thank Michael for continuing to lead Debenhams through a crucial time of change in retailing and for the good progress the company has made under his leadership.
"He has worked enormously hard to develop the company's strategy and the benefits of this are really starting to show in the results.
"I am pleased Michael will remain with us until we have appointed a suitable replacement and will help facilitate an orderly succession process.
"The board are confident we have a clear and effective strategy and when Michael steps down, he will leave Debenhams in a strong position to compete and deliver long-term sustainable growth."
Strategic progress
Sharp's exit comes as Debenhams hailed "further progress" during the financial year, which included improvements to its multichannel offer. Online sales grew 11.4% during the 52-week period and now represent 13.6% of group sales. Online EBITDA jumped 11.5%, Debenhams added.
The retailer said mobile now accounts for more than 40% of its total online sales.
Debenhams said its "refocused" promotional activity during the year helped it gain "positive sales momentum". The department store group made a reduction of 17 days in its promotional calendar during the year, representing a reduction of 42 days since spring 2014.
It said profit levels were "maintained" in its international business and said that five new stores would open this autumn in the UK as planned, including anchor stores at the new Friars Walk shopping centre in Newport and The Broadway development in Bradford, both of which will open in November.
Speaking on the results, Sharp added: "We have delivered profits in line with market expectations, reflecting further progress against our strategic priorities. We have had an encouraging start to the year, with strong new product launches which have been well received by our customers, and we are in good shape to build on last year's strong performance over peak trading.
"Consequently, we are increasingly confident in the direction of the business and as a result we will accelerate our new initiatives, such as the roll-out of our successful space optimisation trials and new international growth opportunities.
"We have clear priorities for the uses of cash and our continued strong cash generation has enabled us to improve our leverage target and to adopt a progressive dividend policy as future earnings increase."