Worldstores.com, has partnered with digital finance company Wonga to offer customers a new online payment tool allowing them to spread the cost of a purchase across three months.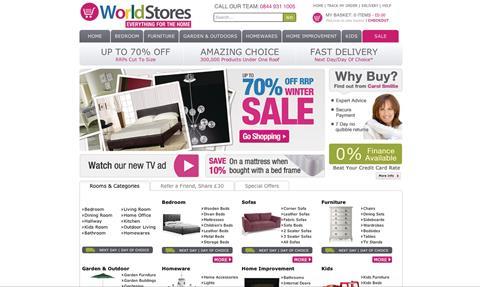 Home and garden etailer Worldstores, will offer an alternative payment method to credit cards via PayLater, which launched two weeks ago.
Consumers pay an upfront fee of 7% to Wonga. After that, repayments are made once a month for three months to the payday loan company.
Worldstores, founded by entrepreneurs Joe Murray and Richard Tucker, operates 77 specialist websites including Bedroomworld.co.uk, Gardenfurnitureworld.co.uk and Shedsworld.co.uk.
Turnover at Worldstores surged 59% to £35m in the year to January 31, 2012, and Murray said the retailer expects to break into profit next year.
Murray said: "It [the Wonga deal] will make a nice incremental addition to sales as from the customer perspective they'll get fast credit."
Worldstores, backed by venture capital firms Advent and Balderton Capital, which also backs The Hut, is the second retailer to sign up to the service, following a trial with The Cotswold Company which began in December.
Wonga, which has been criticised for encouraging people to rack up debt, is in advanced discussions with electricals, sports, and home and garden retailers about adding PayLater as an online payment option.
PayLater is liable for any repayments customers miss. Its boss Steve Dukes said: "We've seen a massive demand for consumers to pay in this way.
"For retailers it drives incremental sales because it is a new form of customer who wants an alternative to credit cards. Retailers recognise that customers see more convenient ways to pay on credit and retailers want to meet that need."