John Lewis sales rose 14.5% to £74.9m in its 150th anniversary week despite the tube strike impacting footfall at its central London stores.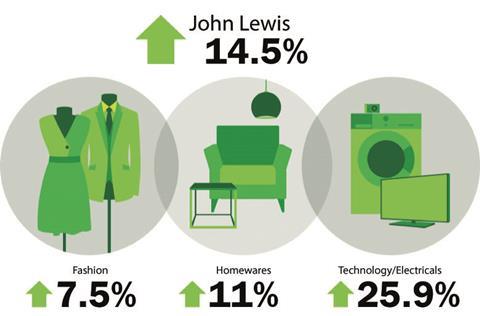 Online sales surged 33% in the week to May 3, with click-and-collect popular with customers, particularly picking up items at local Waitrose stores.
John Lewis director of retail operations development Simon Russell said volumes collected at Waitrose had almost doubled on the previous year.
Store sales jumped 8% over the week despite the tube strike taking its toll on both Oxford Street and Peter Jones, where sales slipped 3.5% and 5.8% respectively.
The department store group's 'at home' format was once again the star performer with the Chichester, Swindon and Croydon stores all trading strongly.
Electricals was John Lewis's strongest category, with sales soaring 25.9%. Television sales were helped by some new curved models and also the launch of its own John Lewis range. Russell said that early World Cup planning also drove sales.
Home sales rose 11% over the week with its 150 year anniversary merchandise is in demand. However, it was furniture that had the greatest impact and the retailer said it had a "healthy level of forward orders".
Fashion also grew 7.5% despite being up against some strong price matching activity last year. 150 year anniversary lines here were snapped up, particularly women's dresses.
Russell said: "The anniversary celebrations around the country were very well received, particularly in Oxford Street. The roof garden proved to be an instant hit and the exhibition a 'must see' according to customers. Congratulations to all Partners involved in pulling together such a compelling celebration with as much, if not more, rigour as at Christmas! Happy Birthday!"
Meanwhile, at John Lewis Partnership-owned Waitrose the sunshine helped sales to sizzle, up 6.4% over the week to £126.9m.
Barbecue foods were up 81% and barbecue fuel up 74% despite the same week last year being warmer.
Beef sales rose 13% year on year, sausage sales were up almost 11% and poultry increased by 8%.
Shoppers who weren't so fortunate with the weather turned to cooking warming dishes, said Waitrose supply chain director David Jones. Cookware sales were up almost 20% on last year with more than 4,700 oven trays and nearly 8,000 roasting dishes sold last week.
Jones said: "Roast dinners seem to remain the cornerstone of bank holiday get-togethers for friends and family as sales of frozen Yorkshire puddings rose by 15%, frozen potatoes sales grew by 21% and frozen vegetable sales increased by 13%."
Waitrose's Welcome Break motorways service stations delivered "incredible figures" ahead of the Bank Holiday. Jones said that in the first quarter like for like rocketed 23% while total sales soared 54%.