Made.com is making its passion for quality the focus of its TV advertising debut as the etailer aims to become a household name.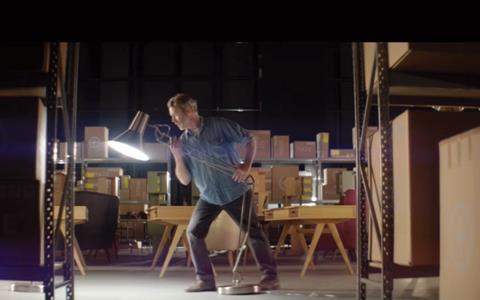 Set in a warehouse, the advert shows a lone male designer working late and inspecting the quality of the furniture.
The ad showcases the quality of Made.com's products, with plenty of close-ups to highlight the craftsmanship of the designer furniture, such as the wood finishing on a desk.
The ad is single-minded in communicating the retailer's position as the online source for quality designer furniture.
It ends with the strapline 'Irresistibly Made.com, great design from the makers' and there is no mention of price or promotions, although it does highlight an offer for free delivery during September.
Set to a 1980s-style electronic soundtrack, the campaign also strikes a humorous tone, as the designer inspects the furniture in comical fashion - he dances with a six-foot floor lamp to test its flexibility and lovingly strokes a sofa.
Though more likely to provoke a smile than a laugh, the ad's humour shows the brand is passionate about furniture, but doesn't take itself too seriously. This also prevents it from coming across as pretentious.
Co-founder and chief executive Ning Li said he hopes the campaign will be a "catalyst" to help the etailer become one of the leading brands in homewares.
Made.com has carved a strong niche among its affluent target customer online and through its showroom in upmarket Notting Hill, and will hope this campaign can ensure it is synonymous with quality, designer furniture.