Tesco boss Dave Lewis has hinted that its full-year profits could come in ahead of expectations following a jump in third-quarter sales.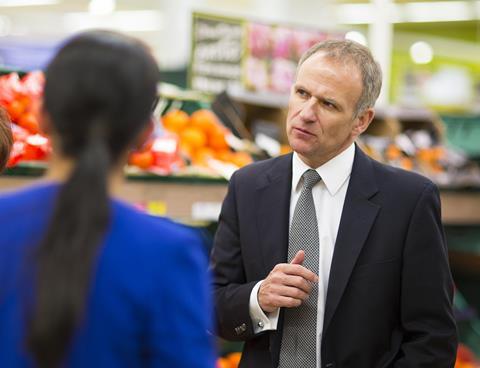 The supermarket giant registered a 1.8% uplift in UK like-for-likes during the quarter ending November 26, 2016, and a 0.7% climb for the six weeks to January 7.
Lewis hailed the grocer's "very encouraging" performance during the crucial trading period, highlighting improvements in range, quality, price, service and availability.
He told journalists that Tesco's full-year operating profits could now come in ahead of its £1.2bn consensus.
Lewis said: "The market remains very competitive, but what we are seeing is consistent, sustainable growth from Tesco and that's what we expect to keep delivering as we head into the final weeks of the year.
"At the half-year we shared our guidance of being on track to deliver £1.2bn group operating profit for the full year.
"We are on track to deliver at least £1.2bn, maybe just a little bit more."
Food and clothing up
In contrast to its big four rival Sainsbury's, which said food sales were "slightly negative" during its third quarter, Tesco posted a 2% uplift in like-for-like food sales in the UK during the 19-week period encapsulating its third quarter and Christmas.
Lewis in particular pointed out the success of Finest wine lines, which grew 20%, a 24% surge in revenues from party food and an 18% jump in sales of 'free from' products.
Away from its core food proposition, F&F clothing sales grew 4.3% over the six-week Christmas period, while toys advanced 8.5%.
However, general merchandise sales were "heavily impacted" after Tesco opted not to repeat its Clubcard 'Boost' promotion.
Without this impact, Tesco said UK like-for-like sales would have been 0.8% higher over the Christmas period.
Lewis said: "Although not running Clubcard Boost had a significant effect, it was the right thing to do and we made the decision for the right reasons as we shift from short-term trading promotions to investing in offers that create value for all of our stakeholders."
'Not immune'
But despite continuing to invest in everyday low prices – resulting in the price of a typical basket falling 7% compared with September 2014 – Lewis admitted Tesco was "not immune" to inflationary pressures in the market, particularly in categories such as pork and cheese.
He said: "Throughout the period we have been working shoulder-to-shoulder with our suppliers to mitigate the impact of the falling pound.
"We've seen deflation through the 19-week period, but it's clearly at a lower level than earlier in the year.
"Inflationary pressure is there, and in a number of categories it has been too significant to fully offset. But our commitment is to keep doing everything we can to minimise the impact.
"Inflation is not something we welcome and we will keep working with supplier partners to provide the best possible prices and quality for our customers."