The volume of items purchased in supermarkets rose for the third consecutive month as falling prices encourage shoppers to buy more.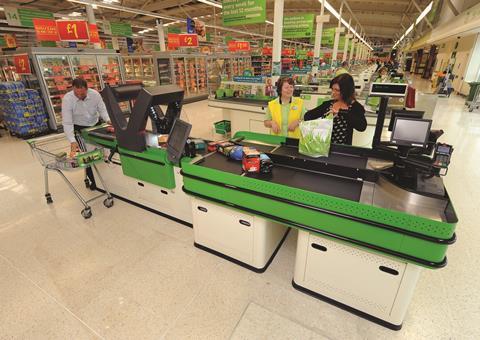 Sales volumes rose 1% during the four weeks ending February 28 compared with the same period in 2014, according to data from insights company Nielsen.
But sales value fell by 0.7% year on year as the supermarket price war and lower commodity prices brought down the cost of the average basket.
Nielsen's UK head of retail and business insight Mike Watkins said: "This is now leading to sustained volume growth, suggesting the consistent decline in supermarket sales that characterised last year may finally be over.
"At a category level, there's volume growth in confectionery, drinks, snacks and bakery. In addition, deflation is currently having the biggest impact on packaged grocery and fresh and chilled foods, so we expect volume growth to follow in these categories too.
"This good news is likely to be amplified with spring on the horizon, as Easter is often a turning point in sales momentum. It's realistic to expect we'll see a sustained period of shoppers buying higher volumes."
Morrisons sales
During the longer 12-week period ending February 28, Morrisons was the only big four supermarket not to see a decline in year-on-year sales, Nielsen said. Sales were flat, but spend per visit continues to increase, according to the data.
The news will come as a welcome boost to the grocer, which revealed a 52% slump in pre-tax profits yesterday.
Its chairman Andrew Higginson said new chief executive David Potts would be seeking to "generate momentum" in its superstore estate.
Asda was the worst performer among the big four supermarkets after sales fell 2.2% during the 12-week period.
Sainsbury's sales dropped 1.4%, but Nielsen said its trading performance had "improved" during the last four weeks.
Tesco's year-on-year sales declined 1.1% in the 12 weeks to February 28, despite attracting more shoppers.
Discounters Aldi and Lidl both recorded sales surges year on year, by 16.1% and 13.3% respectively. But their market share remained at a combined 10.7% for the second consecutive 12-week period.