B&M is aiming to open around 80 new stores over the next 18 months as it seeks to capitalise on fears over an economic downturn and Brexit.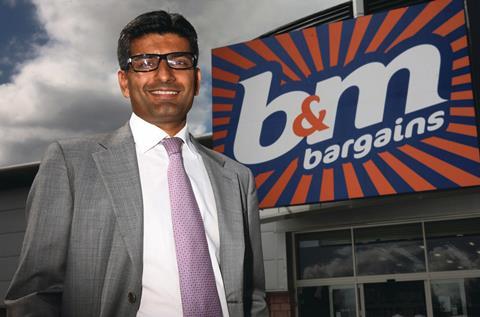 The Liverpool-headquartered value retailer is on track to have opened 50 new stores across its financial year, which ends in March.
At the end of its half-year, B&M had 519 UK stores. During the period the retailer posted a 10.4% rise in pre-tax profits off the back of an 18% jump in total sales, it said today.
B&M, whose chairman is former Tesco boss Sir Terry Leahy, also expects to open 50 more stores in its next financial year, with two-thirds of these in the South of England.
Boss Simon Arora told Retail Week that B&M has "little penetration" on the south coast, where there is an opportunity to expand.
B&M remains on track to hit its target of "at least" 850 UK stores, Arora said. It also currently has 66 stores in Germany.
Downturn 'positive'
A number of high-profile retailers have warned they will have to raise prices next year because of the impact of Brexit.
But Arora said: "We see that as a positive for B&M. During a downturn, that's when shoppers will seek out a bargain."
He added that B&M, which sources around a third of its products from China in dollars, was focused on mitigating any price increases as a result of Brexit.
Arora also shrugged off concerns that B&M's like-for-likes rose only 0.2% in its half-year. On an underlying basis, like-for-likes climbed 1.9%.
Arora said he was "very pleased" with the sales performance, which in the context of other retailers was a strong showing.
However, Haitong Research analyst Tony Shiret sounded a note of caution.
"The results…have not really got us any closer to knowing how B&M will cope in 2017/18, nor whether the new store programme will end in tears," he said in a note.
"The new-store debate is the key to this company's prospects and we expect this to take more time to play out."