The latest results from beleaguered fashion retailer French Connection might not exactly have merited a toast among shareholders last month, but there were probably sighs of relief.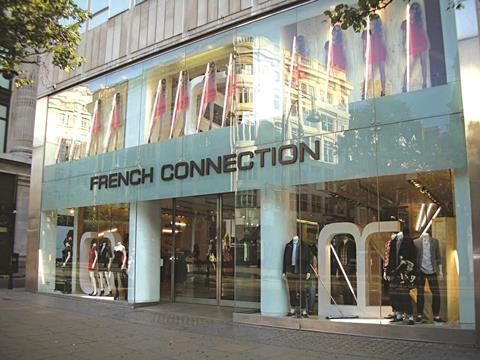 Flat like-for-like sales for the 15 weeks to May 11 was a much-improved performance for the retailer, which suffered a 7.4% decline in like-for-likes in the UK and Europe in the year to January 31.
It's been a rocky road for the fashion retailer, which has been beset by trading difficulties in recent times. The glory days of enjoying double-digit pre-tax profits appear to be behind it for the time being.
In the year to January, French Connection racked up a loss of £10.5m, although that marked an improvement on 2009, a dark year in the history of the company when losses slumped to £17.4m.
So what happened to make French Connection lose its way?
Aside from the poor economic backdrop, which caused other fashion retailers to struggle, French Connection has been damaged by over discounting and its long-running association with its FCUK branding.
Once a money-spinner that helped raise the brand's profile, demand for the controversial FCUK logo that featured on the T-shirts of teenagers up and down the country in the late 1990s and early 2000s eventually wore off and the branding became tired and outdated.
But French Connection, headed by Stephen Marks, who founded the business in 1972 and has a 41.8% stake, is in the midst of an improvement drive.
It is reviewing its product and prices and wants to close 15 loss-making stores. The retailer has also hired its first UK head of retail, Simon Donoghue, formerly of Ralph Lauren, to help improve its shops.
Although it officially launched its turnaround programme last year, French Connection has been vying to reposition itself for a lot longer.
A cool and quirky 'For Man. For Woman' campaign in 2010 made some headway in moving away from its heavily logoed past.
The retailer undertook a portfolio restructure in 2009, which involved the closure of stores in Japan and the US and the sale of its premium Nicole Farhi label, which was set up by Marks' former partner Farhi, who used to be involved in the business.
French Connection also rethought its overseas expansion plans, shutting down its Japanese network in early 2010. Most of the company's US stores were scheduled to close during 2010/11, with just six to be kept on to support its wholesale business.
However, while retail operations have scaled back, its network of joint venture and licensed outlets has expanded - the retailer had 283 outlets by the end of 2012/13, up from 207 at the end of the previous year.
Australia is a key market, with 92 stores as of January, while there are 21 in China and 13 across the Middle East.
Back in its home market the fashion retailer has 68 standalone French Connection stores as well as concessions in House of Fraser, Selfridges and Harrods.
It also wholesales through indies and is the owner of Great Plains, a fashion basics range, Toast and YMC.
French Connection remains the retailer's core brand, accounting for 90% of group sales in 2012.
French Connection parted ways with its long-standing finance chief Roy Naismith in April, the first high-profile exit since its turnaround began.
The retailer hired a strong replacement in group finance director Adam Castleton, who has an enviable CV after racking up experience at eBay, Polo Ralph Lauren and The Walt Disney Company.
The new finance chief might have a long, hard road ahead when he takes up the role in August as the retailer attempts to restore profitability, but French Connection's recent results might just make the ride a little less rough.
The Bottom Line
Turnover £197.3m (group sales ex-VAT) in the year to January 31
Profits Pre-tax loss of £10.5m
Chairman/chief executive Stephen Marks
Brands and fascias French Connection, Great Plains, Toast, YMC