A new 9,700 sq ft toy shop set over two floors may be of passing interest, but will probably not be worth writing home about. When it is a new format and a flagship rolled into one, it is rather more noteworthy and Spanish retailer Imaginarium's flagship in Madrid's Salamanca district, is more or less that.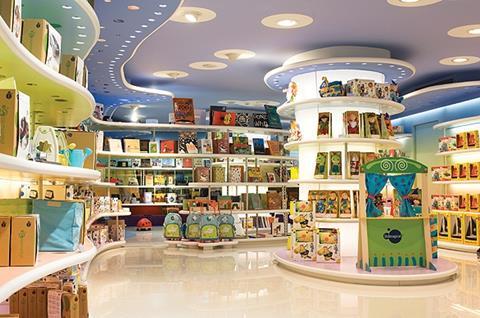 As well as a large selling area for games and toys for kids from nought to 10 years old, there are spaces set aside for everything from a hairdressers to, curiously, a yoghurt shop. There is something of the Disney ethos here insofar as this is intended to be an experience for children and their parents and makes allowances in the store design for both.
On closer examination, the Danone (yes, the French dairy products giant) yoghurt shop turns out to be a space that in other stores would function as a cafe and may come at the end of a visit to the in-store library and toy museum. The former offers shoppers the chance to browse titles in Catalan (although this is a long way from Barcelona and Catalonia), Castilian Spanish and French, while the latter really is a small slice of toyworld's yesteryear.
There may be new features in this store, but it absolutely remains true to the spirit of a workaday Imaginarium where the environment is almost entirely aimed at children rather than adults (right down to the trademark twin circular doors - one for adults, one for children).
Imaginarium has 39 other stores for its merchandise in Madrid alone, but at one fell swoop, this becomes its focal offer. The store opened at the beginning of December.