The success of Amazon Prime has led other retailers to follow suit, with delivery subscriptions such as Asos Premier and Next Unlimited soaring in popularity. Customers love them, but are they a boon to retailers?
Delivery subscriptions, which offer unlimited delivery for a one-off fee, are an increasingly popular fulfilment option. The grocers, and a plethora of fashion retailers including Asos, Boohoo, Missguided, Oasis, New Look and M&M Direct, promote the option to customers.
By far the most popular delivery subscription is Amazon Prime, which hoovers up 61.4% of the estimated £2bn a year spent on subscription services in the UK, according to a May 2018 report from delivery provider Whistl.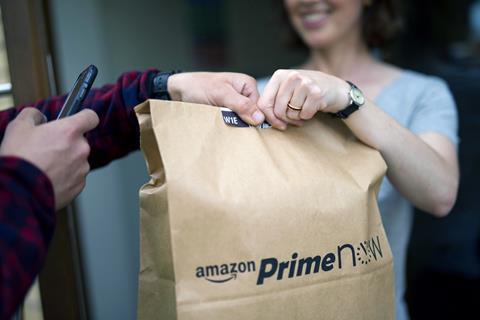 Ignoring subscription recipe box services such as HelloFresh, the next biggest schemes are Next Unlimited (9.7%) and Asos Premier (8.8%).
Shoppers are lapping up these services, which can bring substantial savings on delivery. The Whistl report found that 60% of shoppers who use the services mainly do so because of value for money – claiming they save on average £165 a year by signing up.
A total of 45% cited convenience, and almost one in three said discounts and services were the biggest draw.
Are they worthwhile for retailers?
Delivery subscriptions may be great value for consumers, but what about retailers? Simon Ratcliffe, former logistics and supply chain director at retailers including Fat Face and Marks & Spencer, says "there's no doubt these services are expensive and margin-dilutive".
David Grant, professor of supply chain management and social responsibility at The Hanken School of Economics in Finland, estimates that one-way delivery costs are around £12. However, Asos charges just £9.95 for a year's unlimited next-day delivery with its Premier subscription.
There are also question marks over whether delivery subscriptions encourage returns, thereby pushing up already wince-inducing supply chain costs.
Manhattan Associates director of solution consulting Alex MacPherson says: "Returns are a huge and growing concern for a lot of retailers. It's always been a concern, especially in fashion retail, and [delivery subscriptions] encourage it."
Despite these many negatives, retailers continue to jump on the subscription bandwagon, and a big reason for this is the loyalty boost – and resulting incremental sales – that these schemes drive.
Nearly half of those surveyed by Whistl admitted to regularly buying products they wouldn't have picked out without the delivery subscription, with the figure increasing to 60% among adults aged 18 to 24 – ideal Asos customers.
Meanwhile, Amazon Prime members are predicted to spend double that of the average non-member each year, according to the Consumer Intelligence Research Partners.
Ratcliffe points out that focusing on growth by boosting existing customer loyalty can be more sensible than acquiring new customers.
"On the surface, [a delivery subscription] is margin-dilutive, but if it means you don't have to invest in getting new customers, you generate incremental loyalty and revenue"

Simon Ratcliffe, former logistics and supply chain director
"The most expensive customer to attract is new customer," he says. "On the surface, [a delivery subscription] is margin-dilutive, but if it means you don't have to invest in getting new customers, you generate incremental loyalty and revenue; the hard-cost equation isn't as simple as you think."
Grant suggests that the margin dilution may be overplayed as consumers have no inclination to pay for either online delivery or return. This is leading many retailers to offer free fulfilment services. Asos, for example, offers free standard delivery on all orders over £25.
There are also other benefits. MacPherson points out that there are supply chain advantages as it makes forecasting volumes easier.
Meanwhile, Ratcliffe says for retailers such as Amazon, delivery subscriptions have generated new market opportunities and can help them push new products and services.
According to consumer insights firm Hitwise, those who signed up to Amazon Prime over Black Friday were four times more likely to visit the online retailer's fledgling grocery business Amazon Fresh.
Hitwise global head of insight Lisa Luu says this is because Amazon steers these new subscribers towards the services it wants to promote.
Not for everyone
A delivery subscription is not for every business. Ratcliffe says retailers must make a choice about how they differentiate themselves.
In fashion, Ratcliffe believes there are two big differentiators – product and service. The latter is where delivery subscriptions fit in.
"The question is what's your differentiation point: is it in service or is it in product? You can't be everything to everybody or you won't make the level of profit or returns that your shareholders want," he warns.
"Too often retailers think they have to be everything to everybody. Frankly that's too expensive, you don't make money that way. You've got to decide your product and your service attributes and where you want to compete."
He explains that former employer Fat Face decided product was its differentiator, and therefore opted out of super-speedy fulfilment and delivery subscriptions.
Understanding your customers' priorities is crucial when determining whether to compete on service, advises Ratcliffe. For some customers, delivery is not the be all and end all.
Ratcliffe says Fat Face used customer research to determine what its customers cared about. It leant on this when deciding the location for its new warehouse, which led it to go against common wisdom and open on the south coast rather than in the Midlands.
"Fat Face's warehouse is not in the Midlands, which means its next-day delivery cut-off is not competitive but research showed this was not a customer priority. There were far more important things for our customers. It would have been far more difficult and expensive to open in the Midlands," Ratcliffe explains.
Keeping up with the competition
However, an important factor driving what customers prioritise are the delivery options offered by the other retailers they shop with. With delivery subscriptions becoming increasingly popular, particularly with fashion's big multi-brand retailers such as Asos, Next and Amazon, shoppers come to expect them.
Ratcliffe says for some retailers, subscriptions will be a "competitive hygiene requirement". This would explain why a plethora of young fashion retailers such as Asos, New Look and Boohoo offer such services.
MacPherson suggests that a subscription could be viewed as a cost of doing business these days, akin to the free click-and-collect model, which most UK retailers offer.
However, with the profitability of trading online already under pressure, few can afford to give away more margin. Only the slickest operators, with the most efficient supply chains, will be able to reap the benefits.