Halfords has reported a 3.5% rise in first-quarter group like-for-likes driven by sales of premium bikes and its cycle repair services.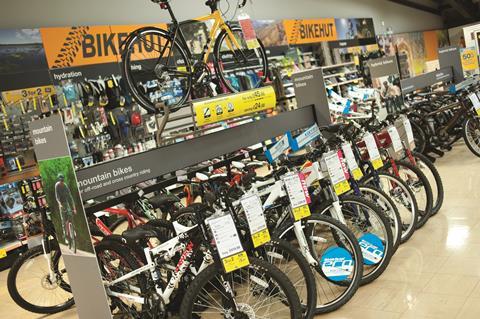 First-quarter like-for-likes rise 3.5%
Premium bike sales up 8%
Autocentres sales up 4%
Sales on an underlying like-for-like basis in the 13 weeks to July 3, adjusted for the timing of Easter, climbed 4.2%. Total group revenues rose 3.6%.
The retailer said its 'Getting into Gear' strategy, a five-pronged initiative including store refits, is contunuing at "pace".
Chief executive Jill McDonald, who took over from Matt Davies in May, said its retail business continues to deliver a "broad-based top-line performance".
Sales of premium bikes rose 8%, while revenue from cycle repair jumped 24%. Overall cycling like-for-likes rose 2%.
Elsewhere in its retail unit, sales from its travel solutions – including tents, roof boxes and cycle carriers – were up 9%.
McDonald attributed this to "compelling offers and knowledgeable colleagues".
Car maintenance sales were "robust" with 'Parts and Workshop' up 7% and 10% respectively.
McDonald noted that Halfords opened its fifth Cycle Republic store in Nottingham in May and "further openings" are planned.
Earlier this month, Halfords appointed Jonny Mason as chief financial officer to replace Andrew Findlay, who was poached by easyJet in April.