RWRC has extended early-bird entries for its annual Discovery 50 report celebrating the top global retail tech start-ups. With technology essential to retail offerings and operations in this challenging environment, how can businesses rethink their approach to working with the start-up community?
To navigate the pandemic, retailers have had to shift to thinking digitally, embracing new channels, technologies and ways of driving efficiency and effectiveness through organisations and their workforces.
But for big businesses, change doesn't always come fast enough – this is where start-ups come in.
Start-ups present new ways of connecting with customers, the next level of operational efficiency, clever use of AI and machine learning technologies, and data to personalise messaging and brand awareness. In retail consultant and author Ian Shepherd's words: "Start-ups offer a lifeline to retailers."
Now is the time for retailers and brands to think about how they could work differently with the start-up community and foster relationships that will help them future-proof amid turbulent economic conditions.
Here are six ways to work better with start-ups:
Create a fast-track, light-touch process for forming contractual relationships with start-ups


Collaborate with legal and finance departments to overcome some of the concerns around working with start-ups and speed up the due diligence process


Explore if any risks can be taken with what you regard as your intellectual property and how open you can be in sharing that with a start-up


Preallocate some investment that can be used for trials, without any governance


Be ready to celebrate failed experiments for the learning points that they are and to grab hold of successes


Treat start-ups and partners as friends and advisers, and in turn, be a friend and adviser to them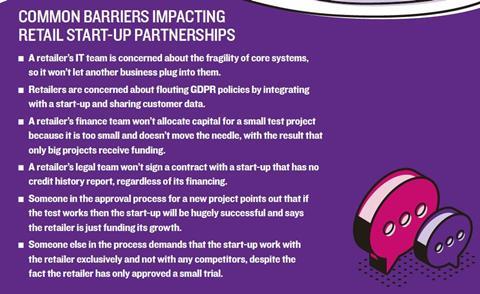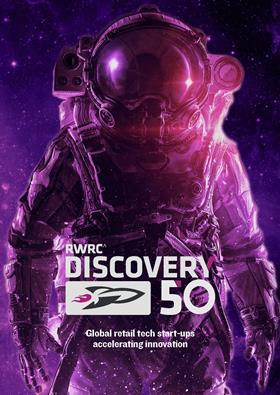 Are you an innovative tech start-up building synergies with retailers? Or are you a retailer that has successfully partnered with a start-up? Enter Discovery 50 here today or share the opportunity with a start-up that would benefit.
Until January 7, start-ups can leverage RWRC's early-bird entry fee of £250.
Successful entrants will feature in the Discovery 50 report, publishing in April, which will circulate to retailers and investors across the world.