Returns volumes are rocketing as online shopping grows. Liz Morrell finds out the best way for retailers to manage them - and how to resell returned goods.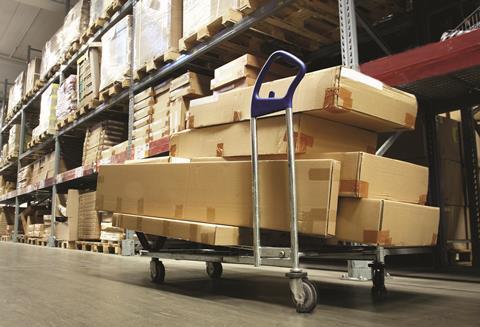 Returns have always been a headache for retailers, but in an online era they are likely to become increasingly more so.
Even outside the January period - when many Christmas purchases are returned - the volume that retailers deal with is significant.
Research from retail consultancy Javelin Group suggests that omnichannel retailers are experiencing higher total levels of returns than ever before, thanks largely to the continued rise of multichannel services that allow customers to order without having seen the products.
The fashion sector has up to 40% of purchases returned, according to Javelin Group, while electricals and consumer electronics - two of the lower categories for returns - have between 5% and 10% of goods returned.
Fulfilment company iForce, meanwhile, says returns account for about 25% of sales in clothing, 12% to 13% in electricals, 7% to 9% in homewares and about 2% in accessories. The rise of 'no quibble' returns policies, which allow customers to return products without question, have led to more goods being returned in perfect condition because customers feel more comfortable returning something if they decide it's not for them, according to Kurt Salmon Associates. The consultancy says about three quarters of all returned products are not defective and can therefore be resold.
A flexible approach
Whatever their condition, maximising the financial return of returns is crucial. Making money from returned products has never been an easy process - sorting products and assessing which can be resold is time consuming and costly. Some retailers, however, are making the most of multichannel services to make sure the products are placed into the channel where they are most likely to be resold.
Retailers are making it easier for customers to return products, which in turn is helping them resell goods. "Some retailers are making great strides under the 'serve anywhere' banner. For example, ordering online and returning to store, or ordering via the call centre and arranging return via the web," says Grahame Barrows, business development director, at logistics company Kuehne + Nagel.
Roman Bukary, head of industries marketing at cloud computing provider NetSuite, says retailers are increasingly using their integrated cross-channel systems to facilitate this because retailers can see where current and returned stock sits. "There has been a rise in 'BORIS' - which means buy online, return in store - with retailers creating designated return centres for their online customers," he says.
But the returns process still needs some work. "While some are mastering this experience, for the most part this process is still embryonic and clunky," says Barrows.
Alex MacPherson, solution consultant manager at consultancy Manhattan Associates, says returns are often
badly managed by retailers. "They are rarely a key focus because they're not sales and they don't enhance the brand," he says.
Yet failing to have a slick returns process will cost retailers. It is difficult to know exactly what proportion
of goods are resellable, but iForce claims 97% of returned stock can be reworked and sold in some way. Kurt Salmon, meanwhile, estimates that clothing rates are highest with about 90% of returns sold - often at full price.
Whatever the return rate, the priority for retailers is to get returned stock back into the supply chain as soon as possible. "Even goods that are returned in pristine condition have a short shelf-life before they're discounted anyway," Macpherson says. "So a return that takes months to hit the shelves again can face discounts of anything between 10% and 50% of the retail price." He adds that long shelf-life goods can be sold at full value, and refurbished goods in general can be discounted by between 10% and 50%.
The need for speed
The speed of the process is also important, because it helps ensure the consumer makes another purchase. "Speed is the key to a successful returns process as seeing the credit allows the customer to buy again and maximises the opportunity to resell the product," says Professor Alan Braithwaite, Chairman of LCP Consulting.
How retailers manage their returns processes varies enormously. Some will offer a variety of ways to return goods, whether it's to the store, post office, courier or collection point networks. Matthew Jacques, client development director at Collect+, says retailers must vary their approach according to product category. He says: "Fashion, for example, returns at a much higher rate than media and therefore lends itself to a free return, helping remove consumer reticence to basket build." Each retailer needs to match their returns approach to both their customers and the economics of their business model, he says.
Many larger retailers have dedicated returns teams, while smaller retailers often use their despatch teams.
Some outsource to third-party specialists - iForce, for instance, claims to be able to get stock back on sale within 12 hours of receipt.
Another cost to be aware of is processing - especially for goods returned online, where retailers experience twice the returns of store goods. Alek Adamski, associate partner at Kurt Salmon, says: "The cost of processing a return can be two to three times that of an outbound shipment of the same item. That's why returns can devour some 30% to 35% of profits." But getting it right can be lucrative, Adamski adds, because between 70% and 90% of a resold product's value goes straight to the bottom line.
Electricals are a difficult category because many items cannot be resold if they have been opened. They also need refurbishing if there is even slight use or damage.
Open to options
Mark Catley, head of ecommerce development at supply chain management specialists Norbert Dentressangle, says it's important to use a range of routes for returned products to get back on the shelves. This can range from reselling goods directly on the shopfloor, selling on to third parties or discounters, or debranding - stripping of anything that identifies the brand or retailer. Repairing and reselling, or breaking down for spares are
also options.
Dedicated stores for returned goods are also increasingly popular. "There is an increasing amount of pop-up or outlet stores for retailers to sell returned or end-of-season products. It is a good business model that does not waste stock that could otherwise be sold," says Geoff Taylor, director of client services at iForce.
Argos says its products go through a thorough checking process before it decides how to resell them. Where products cannot be sold as new they will be returned to the manufacturer and, within Argos' own brands, most electrical items and higher value non-electricals will be refurbished and sold via its Clearance Bargains stores and the Argos Outlet on eBay. "Investment in our Clearance Bargains stores and eBay operation means that we can sell direct and optimise value," says a spokesperson.
Auction sites are a growing channel for reselling returns. EBay runs sites for retailers such as Maplin. "For
retailers with a physical store portfolio, an advantage of choosing eBay for their refurbished stock is that rather than offering customers a very limited inventory of refurbished products in individual stores, an eBay store provides an opportunity to aggregate inventory into one well-stocked location," says Clare Gilmartin, vice-president of eBay Marketplaces, EU.
Ryan Thomas, multichannel director of Maplin, says eBay is a helpful channel to use. "It provides a useful route to market and access to an extensive customer base," he says.
The challenge for most retailers is assessing the true cost of returns, according to Professor Braithwaite. "It could easily be 5% of revenues when you factor everything in," he says.
Ultimately, nearly everything can be resold - the challenge for retailers is ensuring that processing costs are kept under control.
In numbers
25% Clothing returns as a proportion of sales, according to iForce
12-13% Electricals returns as a proportion of sales, according to iForce
7-9% Homewares returns as a proportion of sales, according to iForce
2% Accessories returns as a proportion of sales, according to iForce
Typical reselling price of returned items in pristine condition
Niche/trend products, such as iPads and smartphones 60% to 75% of RRP
Electricals such as kettles, microwaves, and cameras 50% to 65% of RRP
Homewares such as crockery and kitchen and bathroom items 40% to 55% of RRP
Toys 20% to 30% of RRP
Fashion, medium to low-cost garments 10% to 25% of RRP
Low-value products of less than £15 5% to 7% RRP
(Source: Kuehne + Nagel)