The bank holiday festivities are over and it is back to the grind of tough trading and ferocious competition. But it's not all doom and gloom for the industry. Here we highlight why there is plenty of reason for optimism…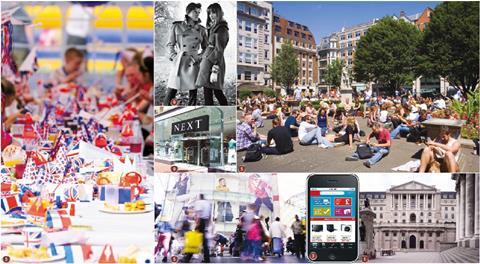 1. The economic recovery is continuing
A 0.5% increase in GDP might not be a reason to hang out the bunting, but at least last week's official figures showed a return to growth in the first three months of 2011, after a fall in GDP in the last quarter of 2010.
It's good news because while the growth isn't stellar, it is at least a sign that the double-dip recession that was feared at the start of the year isn't happening. The UK economy remains in a recovery phase - a very gentle one admittedly - but the likelihood of a renewed crisis like the one seen in 2008 has receded. Some sectors of the economy, including the traditional engine room of manufacturing, are growing relatively strongly.
That hasn't yet fully filtered through to consumers, who remain anxious about prospects and are feeling the effect of high fuel prices in particular. But if the gently positive trend continues, and there are no nasty economic shocks, confidence should begin to return.
2. The weather
OK, so good weather isn't good for everyone. The sunshine of recent weekends can have the effect of turning department stores into mausoleums. And when it's hot, sitting indoors shopping on the internet or traipsing round a furniture warehouse isn't the first thing most people want to do either.
But on the whole, good weather at this time of year is good for retail. It makes people want to have parties and picnics - good news for the supermarkets - it encourages them out to buy new season fashions and makes them want to spend time in their gardens.
And after a cold winter when at some points getting to the shops was in impossibility, followed by a gloomy start to spring, April was the month when the sun really has come out to play. Anecdotally, for fashion retailers in particular, the shoppers have followed.
3. Interest rate rise less likely
In March the Consumer Prices Index rate of inflation fell from 4.4% to 4%, making the likelihood of a near-term interest rate rise less likely.
That's cause for hats-in-the-air celebration for retailers that fear an interest rate increase while consumers face pressure on their purses would deal a harsh blow to the high street.
At the start of the year Next finance director David Keens warned that there could be no worse news for the industry than an interest rate hike.
Shoppers' finances are already being squeezed in a pincer movement of the VAT rise in January and increasing costs, and a rate rise would further eat into their disposable spending power.
But slowing inflation should ease the need for a rate rise. Capital Economics' Vicky Redwood maintains: "The likelihood of an imminent interest rate hike seems to have diminished. May's interest rate decision may still be finely balanced… but we expect rates to stay on hold."
4. Even Tesco is having it tough
It may be scant comfort for some hard-pressed retail management teams, but the fact that even top retailer Tesco is finding the going more difficult than it is accustomed to is evidence that the challenges facing the industry are shared and not always company-specific.
In recent years Tesco has powered into non-food categories but last month it acknowledged that punishing conditions have affected it too. Tesco reported growth of 0.4% in general merchandise, clothing and electricals and said that "reflected the challenging environment". In the minds of some, such as Terry Duddy, chief executive of Argos owner Home Retail, that contextualised their companies' performance and showed they were not the basket-cases some had believed.
However Tesco's rivals can't afford to over-indulge in schadenfreude - the retail Goliath's new boss Phil Clarke has vowed to step on the gas in general merchandise.
5. Bank holiday boost
While shoppers tightened their purse strings in the first three months of the year, the wave of bank holidays and spurt of sunny weather has elevated the nation's mood.
Easter's good weather got consumers into the barbecue mood and the supermarkets sold plenty of meats, beers and picnic fare. Waitrose reported its best ever Easter Saturday with sales up 15% on the previous year as shoppers stocked up for the surprise heatwave.
Experian reported that footfall was up 1.3% across the UK on average in the seven days to Easter Sunday.
The royal wedding four-day weekend was also expected to give retailers a boost. While on the day itself footfall was anticipated to slump 16% as the nation's attention was devoted to the nuptials, overall Verdict estimated that the wedding would result in an extra £620m being spent as shoppers stocked up on memorabilia, party food and other similar items.
The New West End Company forecast that the royal wedding weekend would draw an additional 500,000 shoppers into the capital's prime shopping district, giving the area a £50m boost.
Fashion retailers have also been raking in extra sales with copycat dresses of Kate Middleton's outfits.
"May's interest rate decision may still be finely balanced… but we expect rates to stay on hold"

Vicky Redwood, Capital Economics
6. International opportunities
While it may be bleak in Blighty for retail, international prospects are much brighter for many UK retailers. Some have seen a pick-up in certain overseas markets, and others are considering extending their operations abroad or dipping their toes in the water.
Retailers as diverse as Kingfisher, Tesco and Carphone Warehouse have reported strong overseas sales. In its last full-year results Kingfisher said international retail profits - including China - were up 34.3%, while Tesco reported strong growth in its Asian and European markets. Best Buy Mobile in the US has been a big success for Carphone Warehouse and the retailer envisages between 600 to 800 standalone shops within five years.
Marks & Spencer is preparing to re-enter the French market both online and with stores, while etail giant Asos reported in its last update that international sales have now outstripped the UK - it sees huge growth potential overseas.
And even more niche retailers such as Ann Summers, are setting their sights overseas, eyeing markets such as Australia and the US.
"IGD expects the online food market will grow from £4.8bn to £9.5bn by 2015"
7. Fewer big highstreet failures
Although some retailers fear this year could pan out to bring as harsh trading conditions as during 2008 or 2009, there has not been the dramatic fall-out seen then when the recession claimed the scalps of retailers such as Woolworths, MFI, Zavvi and Land of Leather.
This year there have been retail collapses, including Oddbins, 'son of Woolworths' variety store chain Alworths and British Bookshops and Stationers, but none have been on the scale of those that fell at the height of the recession - Retail Week's inclusion in its 2009 annual Power List of administrator Neville Kahn was indicative of how torrid things had become.
While some have appeared wobbly this year - including HMV and All Saints - retailers on the whole remain in fairly robust shape. It was largely weaker players that fell during the downturn, and the hope is that the vast majority of those that remain will be able to withstand the economic headwinds that persist.
8. Falling unemployment
The latest employment data showed that the total number of unemployed people fell by 17,000 in the three months to February, reaching 2.48 million. Encouragingly, it was the first drop since last autumn, according to the Office for National Statistics.
The number of people in work rose 143,000 despite falling employment in the public sector, showing that private sector companies are still creating jobs.
Among those sectors still driving employment is retail. According to the BRC-Bond Pearce Retail Employment Monitor retail employment edged up 0.5% in the first quarter of 2011 - the equivalent of 3,400 more full-time jobs. Food retailers were the most confident about employing more people.
And while the full force of the public sector jobs cuts are yet to be felt, retailers can take some comfort that numbers were revised down from the 500,000 initially mooted in October to 330,000.
9. Many retailers are doing well
Despite undoubtedly tough trading on the high street, most of the UK's largest retailers are faring well. Only one of the biggest 10 capitalised quoted retailers - Home Retail Group - has materially suffered.
Bellwethers of the high street Marks & Spencer and Next have surprised the City with better than expected sales over the past two months. M&S sales were up 2.3% in the 13 weeks to April 2, despite like-for-likes remaining flat, and Next pre-tax profits advanced 9% to £551m in its full year to January 29.
And some retailers' sales and profits are soaring. Luxury group Burberry's latest quarterly like-for-likes rose 13%.
Fashion retailer SuperGroup is proving that it's not just luxury that is doing well as shoppers cannot seem to get enough of its logo-emblazed hoodies. The fast-growing retailer's sales rocketed by 91.8% to £61.4m in its last quarterly update. The fashion group's value has almost tripled to £1.18bn since its float last March - it was a highly successful IPO showing that investor appetite for retailers remains.
10. Online is still growing
Doom-mongers came out in force when the BRC-KPMG's Retail Sales Monitor showed that the worst sales fall in 16 years in March. But there was a bright spot in the figures - online sales are still growing. Internet sales - and those over the phone or by mail order - climbed 7.5% over the month.
The poster child for online retail, Asos, proved there is no letting up in the market as its sales rocketed 70% in the three months to March 31.
Ocado showed how buoyant the online food market is when it recorded its first ever pre-tax profit in its final quarter. Food analysts IGD expects the online food market will grow from £4.8bn to £9.5bn by 2015 and even Morrisons now aims to join the online grocery race.
Multichannel retailers are achieving the most growth - up 19% year-on-year on a quarterly basis according to trade body IMRG. Next boss Lord Wolfson backed online as a key route to growth as soaring Directory sales drove a full-year profits surge. The retailer is expanding its online operations overseas and plans to grow overseas online revenue from £4.7m to £20m in 2012.