The luxury Whistles fashion brand has been owned by The Foschini Group (TFG), the South African retail giant that also owns Phase Eight and Hobbs since 2016.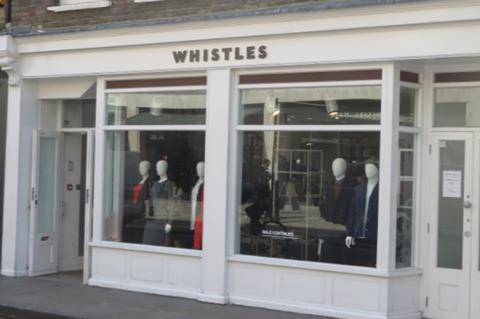 Whistles was founded by Lucille Lewin in 1976, and ownership passed to Karen Millen in the early 2000s. It then became part of former Icelandic private-equity firm Baugur, until former Topshop boss Jane Shepherdson and team acquired it in 2008 and set about restoring the brand to its former glory.
This saw Whistles repositioned to target a younger customer base, transforming it into a highly credible brand focused on contemporary, 'effortless' fashion.
After a massive technology overhaul, the focus of the business moved to international expansion, personalisation and creating a full multichannel offer.
But these initiatives put pressure on the balance sheet and the business returned to underperformance, leading to its acquisition by TFG.
After several years of losses, the business had been back in the black from FY2017 as costs were slashed and unprofitable stores were closed. However, in tough trading conditions exacerbated by the pandemic the retailer swung into the red at operating and pre-tax levels in FY2020.
Whistles announced that it was pulling the plug on its menswear collection in early 2019, having only entered this market as recently as 2014.
Now refocused on the core womenswear business, Whistles has been back in expansionist mode from 2019.
Innovation rating: 1.5
See related content from Retail-Week.com