Lines between tech, retail and experience are blurring at the New York show, finds Mark Faithfull reporting from the US.
With holiday sales largely done and the inauguration of a hugely controversial new president awaiting on Friday, the NRF's retail conference and expo could hardly have come at a more prescient time.
That makes it all the more fascinating an opportunity to gauge opinion, although judging by many of the presentations, US retailers were keeping their cards close to their chests.
"An ongoing belief in stores did ring out from some of the biggest technology companies"
In simple figures, end-of-year trading was largely in line with NRF predictions of 4%, although that disguises the devil in the detail – as those numbers were bolstered by a 14% uptick on online sales, and also that there were clear winners and losers, notably the department stores in the latter camp.
This makes it all the more curious that both Nordstrom and Neiman Marcus have full-line stores under construction in Manhattan, with the sites in full swing as NRF took place.
Yet despite NRF being unapologetically a tech-fuelled show – you could almost pop an 'Intel inside' badge on the bottom corner – an ongoing belief in stores did ring out from some of the biggest technology companies, like the aforementioned Intel, Cisco, JDA, SAP, Mastercard and others.
UK presence
The UK presence was noticeable, not least in the speaking programme, and the show has been packed to the rafters despite taking place across a Sunday and a public holiday.
Inevitably, for the many genuine 'blurring of line' examples between tech, retail and experience, there have also been a lot of solutions in search of a point and, one suspects, that search may be ongoing. Retail needs geeks to support it, not lead it.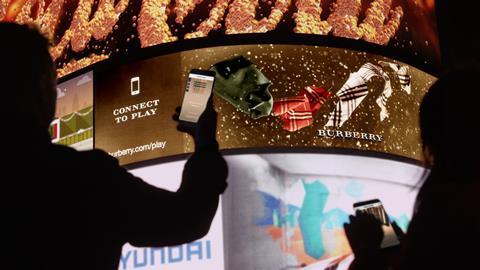 The live demonstration of a VR head set enabling a consumer to virtually enter a real store springs to mind, not least as half the demo was upside down, a perfect metaphor perhaps for a concept utterly lacking in charm.
Politics was played down throughout, although I heard private concerns from fashion retailers over the impact on pricing should trade tariffs go up.
Large-scale roll-outs and expansion programmes remain thin on the ground, although navigating through the packed aisles you would never guess that times are tough.
US retail has remained extraordinarily robust, many of those struggling have long-running identity crises anyway, and excitement is being generated around pure-players eyeing physical space.