Carrefour's third-quarter figures raised eyebrows for the right reasons, not least because they marked a return to like-for-like growth in the French giant's domestic market for the first time in more than two years.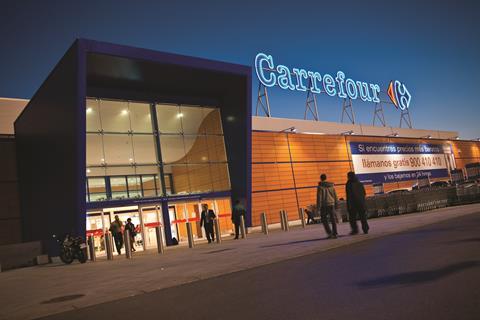 The performance in France provided evidence that the world's second largest retailer is finally beginning to reap the rewards of its endeavours over the past 18 months under chief executive Georges Plassat. France posted turnover up 3% to E10.15bn (£8.59bn), thanks to strong like-for-like sales growth of 3.3%.
This was achieved by virtue of a solid performance at all formats, with hypermarkets up 2% (excluding calendar effects) to e5.5bn (£4.66bn). Food sales rose for the fourth quarter in a row.
The results bear testament to Carrefour's sustained efforts on price and better in-store execution, but also investment in point of sale.
About 36 hypermarkets (of 234) have been refurbished so far this year and a further six are in the process of being refitted.
Meanwhile, 20 supermarkets were converted to the latest Market model and the network of Drive grocery click-and-collect outlets was expanded by 21 to 304.
Sales at the group's international operations were up 3.7% to E10.96bn (£9.28bn). As ever, the headline figure masked a mixed bag performance-wise. The European operations (excluding France) posted sales down 2.7% to E5.41bn (£4.58bn), hampered by Italy and Spain. The reorganisation of the European operation into two separate parts (western Europe and central and eastern Europe) is likely to help the business.
Elsewhere, performance in Latin America was heavily distorted by fluctuating currency rates. Overall sales were up 12% to E3.71bn (£3.14bn), but were actually down 8.5% at current exchange rates.
China recorded its second consecutive quarter of like-for-like growth, up 1.1%, while total sales rose 4.7%, providing some comfort that trading continues to improve at a time when Walmart and Tesco are re-evaluating their Chinese strategies.
The results were posted in the wake of Plassat's recent comments regarding "an end to imperialism".
This was a curious statement to make - retail internationalisation should always be based on sound judgement and adaption to local trends, rather than blind imposition of national values and internationalisation for internationalisation's sake.
Plassat's comments suggest that this was not necessarily the case in the past.
Stephen Springham, senior retail analyst, Planet Retail.
Planet Retail
For more information contact Planet Retail on:
Tel: +44 (0)20 7715 6000
Email: info@planetretail.net