Floorings stalwart Carpetright has been in the wars lately. After three profit warnings it is now considering a CVA to exit unwanted stores as sales stall.
While it has suffered blows following the Brexit vote and as a result of volatile consumer confidence, it has also faced a fierce battle with new floorings rival Tapi Carpets.
There has been many a feud in retail – competition and grabbing market share is at the industry's heart.
But the war raging between the two floorings specialists is particularly bitter, because Tapi is backed by Carpetright's founder Lord Harris of Peckham – AKA the carpets king – and run by his son Martin Harris, who previously spent the majority of his working life at Carpetright.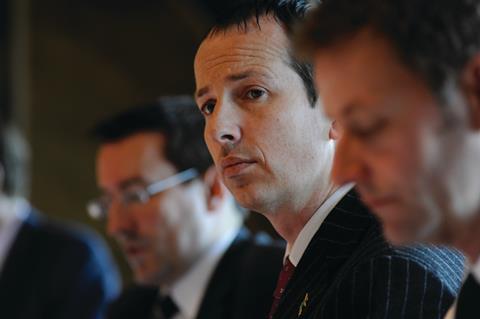 Lord Harris started Carpetright in 1988 and ran the retailer for a quarter of a decade before becoming its chairman. In October 2014, he sold his stake and retired, handing the reins to Wilf Walsh as chief executive.
Martin Harris, who was development director at Carpetright, resigned a few weeks before his father and on October 3 – according to a Companies House filing – Tapi was born, lighting the fuse on a retail rivalry of Shakespearean proportions.
Bad blood?
When Lord Harris' retirement was announced, there was no suggestion of bad blood.
In a statement at the time, Harris spoke highly of Walsh. He said: "I will be 72 this year… I am delighted that Wilf Walsh has agreed to join Carpetright as chief executive. He has strong retail and online credentials and a successful track record in managing multi-site consumer-facing businesses.
"I am confident that I will be leaving the business in safe hands."
"Martin Harris told Retail Week when the first store opened that there was room for both retailers in the carpets market"
Walsh too sung Harris' praises: "Lord Harris has 56 years in the carpet business and will be a hard act to follow, but the market-leading position he has built for the business is an excellent place from which to start."
And it was even said that Harris would remain available to Walsh in an advisory capacity. So it raised eyebrows when Tapi was launched so soon after, with Martin Harris at the wheel.
Tapi aims to differentiate itself by focusing on the in-store, "sensory" carpet buying experience, and Martin Harris told Retail Week when the first store opened that there was room for both retailers in the carpets market. But, as Tapi – and the tension between it and Carpetright – grows, this seems less and less likely.
With decades of industry knowledge in its armoury and wealthy backers including DFS-founder Lord Kirkham, the Tapi founders have now opened 94 stores – the vast majority of which are within a mile of Carpetright's best-performing sites – and poached between 100 and 150 Carpetright employees.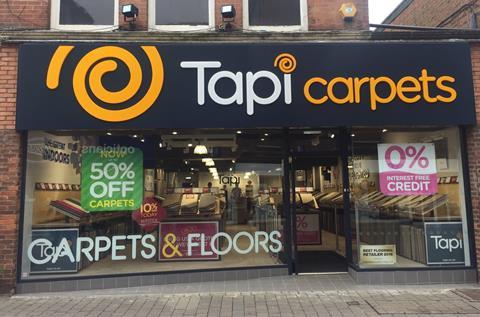 Dog-eat-dog
While there is nothing to prevent the Harris family from using their years of acquired knowledge to nurture Tapi, the new competition has prompted condemnation from some who claim the upstart has "misused" knowledge gained at Carpetright to negotiate better rent terms on its new shops and to guide it to units next to Carpetright's best-performing stores.
A source close to both retailers says: "If you take the top 150 Carpetright stores, that's where Tapi is opening. They have all the data, information, relationships with suppliers and they know what stores are the best.
"You can't really blame them – a lot of it is competitive capitalism, and there's nothing contractually to prevent them from doing it. But it's a blatant misuse of information."
As another source suggests: "It's just not cricket."
Speaking to Retail Week, Lord Harris dismisses the claims. "I've been in the business for over 60 years. Of course I know where all the best shops are, and I'd like to buy 100 shops off them," he says.
"The company's previous leadership has left Carpetright burdened with rents which are simply unsustainable"

Wilf Walsh, Carpetright
Refuting the claim that information has been used to get preferential terms, Martin Harris says: "No. We have a very good agent, and landlords like us. They like the way our stores look, and they like our Trust Pilot score of 9.4."
"They [Carpetright] should be pleased when we go next to them, as they keep announcing their sales benefit when we do," Lord Harris adds.
But Tapi's aggressive openings have clearly rubbed Carpetright up the wrong way.
When Carpetright updated the market on its possible CVA plans last week, Walsh pointedly took a swipe at Lord Harris, ratcheting up the tension.
Walsh said: "The aggressive store opening strategy pursued by the company's previous leadership has left Carpetright burdened with an oversized property estate consisting of too many poorly located stores on rents which are simply unsustainable."
Lord Harris says that both he and his shareholders are unhappy about the remarks that were made.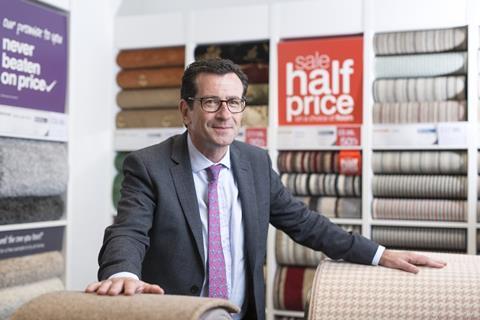 "It's just something you don't do," he says. "Mr Walsh didn't complain about the stores two years ago when they were doing well. If he can't put it right in three and a half years, what chance has he got?"
Martin Harris adds: "He [Walsh] has had the same finance director for 10 years, who had final sign-off on those stores. When is he going to take responsibility?"
Dividing loyalties
Ongoing tensions have not escaped the attention of the retailers' employees either, from the shopfloor to the boardroom.
At least 17 of the 22 Tapi directors listed on Companies House once worked for Carpetright, and around 150 members of Carpetright staff have switched allegiances since Tapi launched.
Lord Harris says: "They want to join somewhere with a bit of enthusiasm."
But Retail Week sources claim Tapi has offered some Carpetright employees "generous, fixed-price guarantees" – in other words, golden hellos – to encourage them to switch.
"We just concentrate on what we're doing"

Carpetright spokesman
Either way, the fight for the UK's most experienced fitters, buyers and sellers rumbles on, giving Carpetright one more thing to worry about.
To what extent the troubles at Carpetright are attributable to Tapi is still open for debate, but clearly the impact of the Harris' venture on the business cannot be swept under the carpet.
One source goes so far as to say: "Harris spent years building the confidence of the shareholders and is now betraying them."
However, Lord Harris counters that many of the shareholders left Carpetright when he did. Only four are still with the business.
A Carpetright spokesman declined to comment, but said: "We just concentrate on what we're doing."
As the two flooring retailers square up, expect blood on the carpet.
Is Tapi immune to the industry's problems?
While Carpetright, as a listed company, operates in the public spotlight, Tapi has been able to expand largely under the radar.
It's as yet unknown how Tapi has fared in the past 12 months – that will become clear when accounts are filed at Companies House. But Lord Harris claims that like-for-like sales are "well up".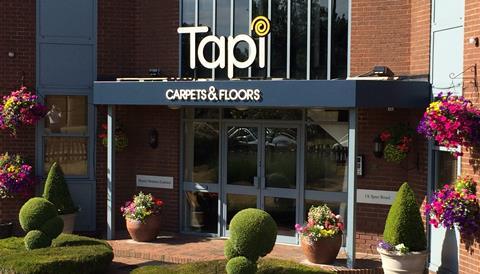 Martin Harris told Retail Week in October last year that he was no longer targeting 200 stores by the end of 2018. He said the number will be closer to 120 following what he described as "a few property setbacks".
When 2017's accounts are filed, it will become clear whether or not Tapi has succeeded in its ambition to turn a profit by 2018.
Tapi generated sales of £30.3m in 2016 and racked up losses of £10.2m, compared with losses of £4.5m the previous year, as the business invested heavily in its new stores.