Retailers have struggled to cope with a Black Friday rush as the police were called to shops and websites groaned under the strain of demand.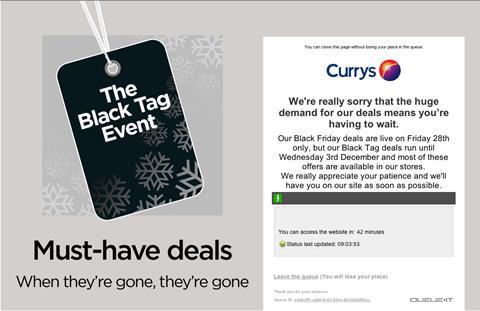 Net-a-Porter, Tesco, Game, Argos and Curry's were among the sites which reported to have had problems as consumers race to take advantage of promotions.
And police have been called to stores as shoppers scrapped over bargains. Police help was needed at seven Tesco branches in Manchester and other locations.
Greater Manchester Police chief constable Sir Peter Fahy condemned retailers for the chaos. He tweeted: "Very disappointing that major stores did not learn lessons from last year - our officers have enough to do already."
Luxury fashion site Net-a-Porter was one of the first sites to go on Wednesday as Twitter users reported a technical glitch as they tried to pay for goods.
Tesco and Currys encountered problems early on Friday morning. Currys shoppers were initially told they had up to an hour to wait as the site struggled to process demand.
Tesco's site crashed shortly after midnight as users were taken to a black page containing an error message. In stores, meanwhile, Twitter users reported fights among shoppers competing for the best deals.
Black Friday always falls the day after the American holiday of Thanksgiving and is when retailers in the US have traditionally experienced a surge in shoppers starting their Christmas shopping. While some UK retailers have taken part in the past, this is the first year many UK retailers have been affected by the phenomenon.