After a turbulent period during the recession, Habitat appears reinvigorated as it celebrates an eventful 50 years in the home retail market.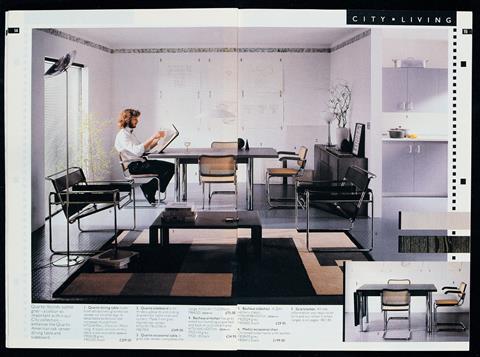 1964
Habitat was founded by Terence Conran and his wife Caroline. The first 6,000 sq ft store opened at 77 Fulham Road on Monday May 11, 1964.
Conran wanted to bring a European feel to furniture shopping and provide customers with beautiful but affordable homewares. At the same time, fashion retailing was being revolutionised by labels such as Biba. Habitat was the first brand to introduce a new approach in the home sector.
The year before Habitat made its debut, Conran opened a factory in Thetford, Norfolk, making flat-pack furniture. But sales were poor, which Conran attributed to how the furniture was being sold through old-fashioned furniture stores. "The staff looked so bored," he told Retail Week in 2008.
"They were flicking bits of blotting paper at each other." So he set up his own store, which was quintessentially of its time. A second store in Tottenham Court Road was opened two years later.
1966
Habitat's first catalogue was published, providing shoppers with an at-a-glance list at the range of products it stocked. The first edition included products such as 'wine goblets' and a 'deep chest on wheels for pleasure (drinks)'. In 1966 Habitat sold woks for the first time, to accompany recipes for what was then considered unusual food by food writer Elizabeth David. Leaflets explaining how to stir-fry were available in Habitat stores up until the 1970s.
1969
Habitat by Post was launched as the brand sought to draw in customers who could not reach one of its stores. The catalogue, which was named Creative Living, brought a glossy feel to mail order shopping.
1973
The brand continued to expand and opened its first international store in Paris.
1981
Habitat floated on theLondon Stock Exchange and a year later merged with Mothercare to form Habitat Mothercare Group.
1982
A chain of shops that Conran was chairman of, Kendall & Sons Ltd, was purchased with the intention of turning it into a ladieswear chain. Hepworth, the owner of the Kendall chain, asked Conran's board to come up with a concept, and Next was born.
1984
George Davies was appointed chief executive of Next after Conran asked his wife Liz, a designer, to come on board. Next went on to become one of the UK's most successful fashion businesses.
1986
The group merged with BHS to form Storehouse Plc.
1992
Habitat was purchased from Storehouse by IKEA owner ICAF, and this was when its difficulties began. Some commentators wrote off the business back then, lamenting that an iconic British brand was being sold to the owners of the flat-pack furniture giant Ikea. But it took until the mid-2000s for its problems to become clear.
2009
Habitat hit the rocks.The Kamprad family, who own ICAF, put the business up for sale, and restructuring specialist Hilco purchased it. The deal involved ICAF writing off debts and providing working capital of Ä50m (£45m).
2011
Hilco took control of the business for two years before selling some parts of Habitat UK for £24.5m to Home Retail Group, which now runs the brand in the UK. The rest of Habitat went into administration, and a month later in July the European part of the business was sold to Cafom SA, a French international home furnishings retailer. It bought the brand's 38 stores across France, Spain and Germany.
2014
Habitat's new strategy under managing director Clare Askem is to slowly increase Habitat's UK footprint once more. This time however, a small handful of three flagships will be supported by a multichannel strategy and wider network of 'mini' Habitats – concessions and small stores. The products are also being sold through Home Retail sister retailers Argos and Homebase. Habitat plans to have 50 mini stores in place by the end of this year.