Morrisons boss David Potts believes consumers became "increasingly savvy" and "cautious" over Christmas as the UK's Brexit date rapidly approaches.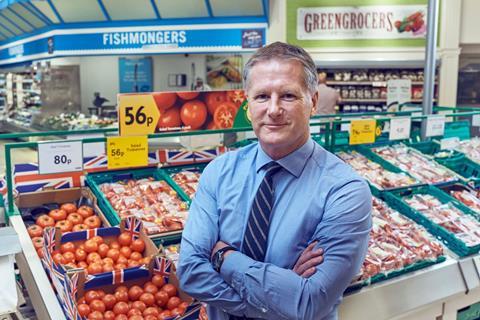 Potts said shoppers were more "conscious" of the country's political situation during retail's golden quarter and were increasingly thinking about "how that may affect them personally" in the year ahead.
The UK will leave the EU in less than three months, on March 29 – and the government is yet to agree a Brexit deal.
Morrisons registered a 3.6% uplift in like-for-like sales during the nine weeks to January 6 despite the ongoing uncertainty, but the bulk of its gains came through its burgeoning wholesale arm.
Supply deals with the likes of Amazon and McColl's drove wholesale like-for-likes up 3% during the period. But same-store sales in its core supermarket business grew 0.6% – a marked slowdown from last year's 2.1% increase.
Morrisons has singled out its Best premium ranges in previous years as being a driving force behind its festive sales growth. But Potts said spend was more "broadly" split across its good, better and best tiers at Christmas 2018, in comparison to "the prior two or three years".
'Savvy and conscious'
Potts said: "People became increasingly savvy and conscious of both the macro political situation in the country and how that may unfold in 2019, and also how that may affect them personally."
He suggested part of the cautiousness was driven by a hangover from "a big spend up in the summer", following the heatwave and England's run to the World Cup semi-finals.
Potts added: "We saw the start of it in October where, although we don't talk about the weather much, it was quite a feature. And going into November there was a sense that customers were a bit more cautious, a bit more careful with their spending, and a feeling of uncertainty within the country may have led to some of that feeling.
"Sentiment improved towards the end [of December] when customers probably thought: 'It's Christmas, we're going to look out for special items', as well as being very conscious of what their total spend was over Christmas."
Potts cautioned that the shift in the consumer psyche would continue throughout 2019. He said that, "in the opening days of this calendar year", Morrisons shoppers "have been very much on the lookout for great value for money".
Yesterday, Morrisons launched a fresh wave of price cuts under its rolling Price Crunch initiative, slashing prices of 900 "store cupboard favourites" by an average of 20%.