Carpetright declares year of "significant progress" as underlying pre-tax profits more than treble.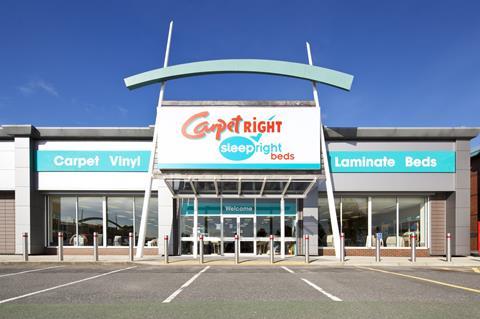 Full-year pre-tax profits jump 183%
Group sales up 3.3% to £462.6m
UK like-for-likes rise 7.3%
The Essex-based retailer said today that underlying profits jumped 183% to £13m in the 52 weeks to May 2. It came as group sales rose 3.3%, while UK like-for-likes climbed 7.3%.
The retailer also revealed today an overhaul of its logo. The floorings firm is seeking to "revitalise" the business after revealing details of a new strategic plan in December.
Chief executive Wilf Walsh said today: "I am pleased to be able to report on a year of significant progress. The group has delivered substantial growth in profit, strong and consistent like-for-like sales growth in the UK, a return to profit in the rest of Europe and a net cash position at the end of the period."
In the UK, Carpetright reduced its net store total by 12 to 460. Group underlying operating profit rose by 111.6% to £14.6m.
For current trading, in the eight weeks to June 27, UK like-for-likes rose 4.9%. In the rest of Europe like-for-likes climbed 7.4% on a constant currency basis.
The retailer added: "At the heart of our strategic thinking is an opportunity to broaden the appeal of the brand by placing a greater emphasis on the unrivalled breadth and quality of our product range, the expertise of our colleagues, and the role floor coverings play in transforming our customers' homes, while retaining our well-established value heritage.
"In today's retail environment, where customers place a high value on convenience and speed, we need to make buying floor coverings a hassle-free experience, eliminating those elements of the process that can confuse or irritate the customer."