Pets at Home like-for-likes have edged up 1.8% in its first half as the retailer experienced "weaker than expected" trading.
The retailer revealed sales for the half ending October 8 were hit by a "seasonal challenge" to its health and hygiene products and an "evolution in mix" in some of its grocery and accessories categories.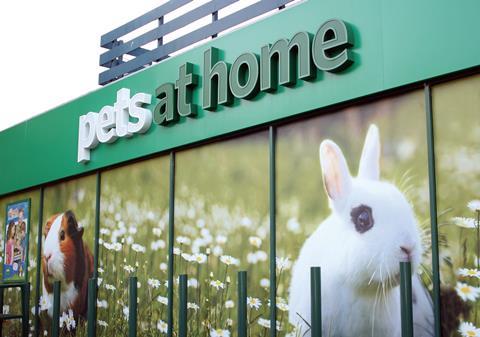 Pets at Home's merchandise like-for-like sales grew 1%, while its services like-for-like revenue jumped 10.5%.
Total revenues increased 6% to £404.5m. Merchandise revenues grew 4.1% to £362.6m as services revenues, which includes its veterinary and grooming business, surged 26.2% to £41.9m.
Pets at Home chief executive officer Nick Wood said: "We remain pleased with the growth of advanced nutrition, vet and grooming services during the first half of the financial year, supported by growing maturity in the VIP loyalty scheme.
"Whilst trading in parts of the business has been weaker than expected, the core strategic drivers are performing well and in order to support their growth, we continue to invest in our colleagues and seamless shopping experience.
"As we highlighted previously, profit growth will be weighted to the second half, as the strong health and hygiene comparatives ease. Our full year profit outlook is broadly in line with market expectations."
During the period Pets at Home launched its first TV ad campaign for its private-label advanced nutrition brand Wainwright's.
It also grew loyalty card members to 3.9m, up 300,000 year on year and opened six new superstores and two boutique Barkers stores.