The transformation that eluded previous Marks & Spencer management teams is now fully underway, with both the food and clothing & home divisions moving forward with purpose and conviction towards an omnichannel future.
With the retailer's UK sales set to surpass those of rival John Lewis Partnership within the next year, according to Retail Week Prospect forecasts, our analysts pick out five factors driving the renewed momentum and look at how each is underpinned by productivity gains to strengthen the bottom line.
Making the most of its people
When Stuart Machin and Katie Bickerstaffe took over from Steve Rowe last year as chief executive and co-chief executive respectively, many observers seemed hung up on the retailer's "unconventional new management structure".
But putting the company under the joint control of Rowe's two key lieutenants is paying off because it has allowed them to see through the restructuring work they had started in food (Machin) and clothing/digital (Bickerstaffe in her role as chief strategy and transformation director) on his watch.
The lack of interruption to management has enabled the turnaround strategy to be accelerated as the pair build on the foundations they had created with Rowe, but set out to be "faster and better" and fully exploit the momentum the retailer has built up over the past couple of years.
Making the most of its people is at the centre of the plans.
M&S is on a mission to create a high-performance culture, with 65% of its 150 top leaders new in the past five years. Nurturing talent, it has put in place a series of structured staff-development programmes to facilitate internal progression and support the transition to data-driven and digital-first ways of working.
Giving its staff more of an opportunity to be heard, Machin's Straight to Stuart digital suggestion scheme, providing every employee with a direct line to share their ideas and thoughts with the boss, is a great example of how staff can be more directly engaged and have a say in the business.
Underpinning the retailer's people strategy has been a steady reduction in headcount as layers of middle management have been stripped out at store level to improve efficiency.
M&S headcount has been reduced by a fifth over the past five years, resulting in a steady improvement in employee ratios despite a slight blip during the challenging 2020/21 financial year when the business was hit by lockdowns.
But as management looks to permanently remove £400m of costs as part of its new 'reshaped for growth' five-year plan, M&S now aims to reduce the staff-costs-to-sales ratio to 10% with a big focus on technology-enabled working.
As part of this, Machin is questioning the need for a big central London office. With the lease on its 238,000 sq ft Waterside House head office due to expire in 2027/28, Machin is interested in having smaller hubs around the country that will enable it to work more flexibly.
The retailer has been an early adopter of flexible working options, providing staff with the choice to work a four-day compressed week. This is part of its new Worklife policy designed to improve the work-life balance for staff and help it attract the best talent in the industry.
Ramping up commitment to its workforce, M&S is making its biggest-ever investment in store pay this year, ploughing £57m into increasing the wages of in-store customer assistants and team support managers by up to 9% per hour.
The latest rise puts M&S store staff above the national minimum wage, and either in line with or above the real living wage, and follows its £46.5m investment in store pay in 2022 through two separate pay rises. This means that frontline pay has increased by more than 20% over the past two years.
Reshaping the store network
While the retailer has made progress on Rowe's plans to improve the store estate, with the closure of 68 legacy stores by the end of 2022 and the roll-out of a successful new food format, the current 'reshaped' programme involves speeding up the rotation of the store network towards a "more highly productive and a higher quality store estate" to enable it to deliver on ambitious omnichannel targets.
The retailer's revamped London Colney store is a great example of how M&S is transforming its estate. Reopened in December 2022, the retailer told Retail Week Prospect: "The top-to-bottom store transformation, which includes a new market-style Foodhall and a new-look, 230-seat M&S Café, marks a big investment for M&S in the local area."
Innovative new features include a wine-tasting machine where Sparks customers can sample from four "picks of the month" before they buy, while new Foodhall offerings include an M&S Mai Sushi Counter, M&S Curry Counter and an M&S Pizza and Pasta Counter with an authentic pizza oven.
The retailer says Colney is performing well post-transformation, with clothing and home sales growing despite a reduction in the sales area, and overall sales up year on year.
Its new Battersea Foodhall, opened in December last year, also goes big on its fresh offer and hosts a range of innovations – including new checkouts and quicker ways to pay such as M&S mobile Scan & Shop technology – to "offer a bigger, better and fresher shopping experience for customers".
M&S ultimately wants to reduce the number of full-line stores by a further 67 – from 247 at the end of 2022 to 180 more modern stores by 2028.
Over the same period, the number of Simply Food shops will rise by 104 to 420, largely in the 12,000 to 15,000 sq ft 'renewal' format.
While planning to complete the store rotation programme in five years, Machin and Bickerstaffe are aiming for three.
The reshaping of the estate reflects factors such as upgrading existing branches to more attractive nearby locations, a push to take 50% of clothing sales online – up from around a third currently – and ambitions to increase food basket size by selling a broader range from bigger branches with car parks.
The space devoted to clothing and home will come down by 1.7 million sq ft to 8.2 million sq ft over the rotation timetable, while food will go up from 6 million sq ft to 6.8 million sq ft.
Machin explained: "We are creating a fit-for-the-future store estate with shops in great locations that help our customers shop the way they want to. We're seeing strong performances from our recently relocated stores and this gives us the confidence to go faster in our rotation plans."
As part of its omnichannel ambitions, the retailer wants to be the most convenient click-and-collect operation across the country and by the end of the store rotation programme will have more than 600 touchpoints for click-and-collect within its ecosystem.
Speaking at an investor presentation in October 2022, Bickerstaffe revealed that stores currently touch 65% of online orders, and customers who shop across multiple channels spend four times as much as single-channel customers.
Further leveraging its store network as part of the omnichannel strategy, a total of 240 stores were serving as micro-fulfilment hubs by the end of 2022, improving efficiency and giving much-needed flexibility amid recent channel shifts.
The retailer is also focusing on the role stores can play in speeding up returns and getting products back into stock as soon as possible.
More than 155 stores now feature digital collection and return kiosks, which speeds up the process in-store. A number of Simply Food stores are now sending returns to 'hub' stores for processing, which also speeds up the return process time.
WISMR (where is my return) tracking is now live for all customers, allowing them to track the status of their refund once they've dropped off an item.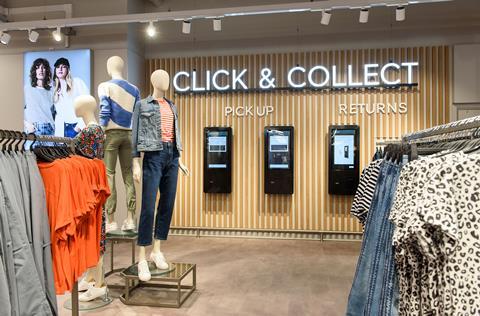 Customer ecosystem
With 30 million customers across the brand, M&S has one of the strongest and most valuable customer data lakes in the UK through the combination of the Sparks loyalty programme, M&S.com, the M&S credit card and Ocado.
Making the most of this is at the heart of plans to 'reshape' the business for growth and it kicked off 2023 with a reset of its senior digital team to drive things forward.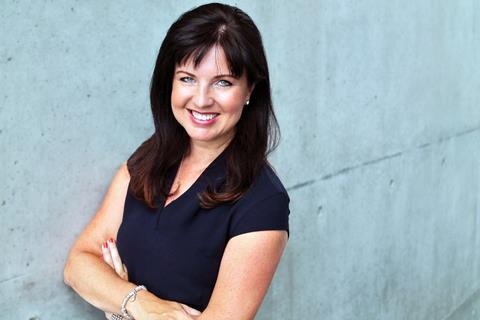 A new M&S Connect division headed by Kirsty Ward is focusing on building a single digital identity of customers to encourage them to stay in the M&S ecosystem, while a combined online and omnichannel function under former M&S.com boss Stephen Langford in an expanded new role will improve how the retailer's digital channels interact with its stores.
The Sparks team, headed up by Danielle Papagapiou, has also become part of the M&S Connect division. The emphasis is on maintaining and building membership of the Sparks loyalty scheme and driving shopping through the retailer's app.
Since it was digitally relaunched in 2020, by the end of 2022 users of the Sparks loyalty scheme have grown to 16.2 million (including 2.7 new members in 2022), of whom 3.9 million were app users. Underlining the importance of the app to its forward plans, the senior team wants to grow app members to 10 million over the next two years and make sure that every interaction with customers is personalised.
Speaking at the Retail Week Eommerce Week event in London in February 2023, head of growth and personalisation at M&S Alex Williams said the retailer is now "close to 5 million monthly active users of the app". Williams said: "From a customer behaviour perspective, it's also where people are turning to for that first browsing experience, whether they end up transacting in that channel or in-store."
Explaining how the app is crucial in bringing "the best service experience" to shoppers, Williams added: "It's little things like if you're getting a click-and-collect order from one of our stores, if you've got push notifications turned on, we'll ping you and ask if you want your order ready" so that it can be at the collection point when the customer gets there.
Making the Sparks app ever more compelling for customers, the retailer has added a credit facility, providing members with up to £500 that can be used across M&S.com and the app. It is also trialling a premium paid-for loyalty tier – Sparks Plus.
Bickerstaffe says increasing app usage will drive personalisation, raising average transaction values and shopping frequency.
Between 20% and 25% of "all digital interactions" are anticipated to be personalised this year, but Bickerstaffe wants to get to 50% in the next 12 to 18 months. Personalisation initiatives such as outfit recommendations have been successful. 'Frequently bought together' recommendations have added £20m of incremental revenue in the past 12 months and that figure is expected to rise to £100m on an annualised basis.
The retailer will also be able to leverage the database it is building to make better category and ranging decisions, all of which should have a positive impact on the bottom line.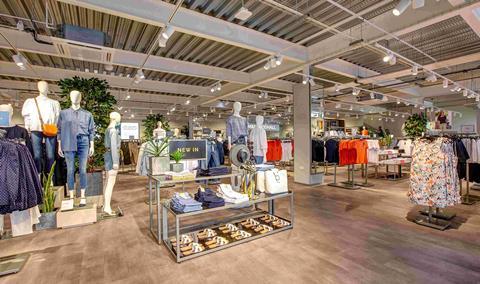 Clothing refocused
M&S has a good reputation for quality and value-for-money clothing but had lost its way in terms of style and fit as successive management teams failed to hone an offer that sat well with the retailer's very broad customer base. As a result, clothing sales had been in long-term decline ahead of the pandemic.
The retailer has overhauled its clothing proposition as part of its 'Never the Same Again' agenda under divisional managing director Richard Price, who has set about delivering an omnichannel clothing and home business, backed by data and highly personalised customer relationships.
It is now looking to drive growth by doubling down on kidswear, where management believes it has not been achieving its full potential, especially on M&S.com, and reckons this could become a £400m business.
It is also "going into battle on sportswear" this year. This follows the recent launch of the Goodmove activewear range, which had grown into an £87m business from a standing start by 2021/22, and the acquisition of the fast-growing The Sports Edit platform last year. The Sports Edit was recently launched as an integrated hub on M&S.com, with as many as 200 new branded products set to be sold on the platform.
Underlining the improvements thus far, 10 consecutive years of sales declines across UK clothing and home were halted in 2021/22, when revenues surged 52% to £3.3bn. While this remained below pre-pandemic levels, Prospect envisages that clothing & home sales will surpass 2017/18 levels in 2022/23 following strong forward momentum in H1 (+14%) and "outstanding" results in Q3 (+8.8%) against increasingly strong comparatives.
Sales growth was underpinned by a return to solid profitability across the clothing & home division in 2021/22, with the retailer posting an operating margin before adjusting items of 10%, against a significant loss the year before.
This has been the result of a number of operational improvements:
Launch of 'MS2', creating an integrated global digital, data and online business division within clothing and home, with operating flexibility to compete with pureplay competition and develop its growing portfolio of guest brands. As part of the 'reshaping for growth' strategy, M&S is looking to build its 'Brands at M&S' into a £400m business, up from around £100m in 2021/22. With more than 50 third-party brands on its platform in early 2023, it will scale this through dropshipping, thus removing stockholding costs from the business.

Reducing option count and the long tail of slow-moving SKUs to reshape the range to volume buys of faster-moving lines and concentrating supply into fewer, high-quality suppliers delivering better quality and price; a total of 630 clothing lines generated sales of more than £1m in 2021/22, a 20% increase on the previous year.

Moving to 'trusted value' and maintaining quality while reducing the proportion of sales sold at discount; discounting has been halved across clothing in the past five years.

Reducing costs and improving stock flow by re-engineering the end-to-end supply chain under an integrated supply and sourcing team.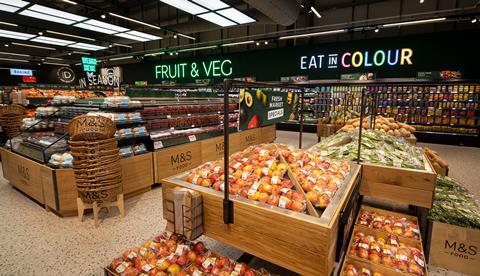 Raising market share in food
M&S' food prowess is based on innovation, with 2,300 new food products developed over the year to September 2022.
But with value front of mind for consumers right now, the food business has invested in pricing (to the tune of £100m over the past three years), reducing its dependence on short-term promotions and multi-buy offers to focus on everyday prices and narrowing its price differential to broaden appeal. Central to this has been the creation of the 'Remarksable Value' range.
The retailer has also introduced Bigger Pack Better Value options, promising an average 10% saving across "fridge essentials and cupboard family favourites".
In addition, it has introduced a new 'always-on' Family Dine In deal for four. This is a development of the Dine In for Two deal pioneered by the retailer and reflects the fact that eating together as a family has become more important since the pandemic.
Over the five years of its current plan, M&S aims to grow its grocery market share from 3.6% to 4.6% and sustain net operating margin of around 4%. It had been hovering just under that level up to 2020/21, but improved to 4.2% in 2021/22 on the back of the sharp rise in sales.
While it does well on small baskets, with a 9.7% market share according to Kantar data for the year to September 2022, as a result of its historic focus on 'food for tonight', it underperforms on medium (2.8% market share) and large (0.7%) baskets.
An ongoing increase in food space is enabling the retailer to allocate more space to ambient grocery and frozen food in a bid to drive up basket size.
Through its food renewal programme, the retailer aims to create larger stores with "the efficiency of a supermarket and the 'soul' of a fresh food market". The overarching aim is to encourage customers to do a full shop and end the perception that M&S is a convenience, ready-meal specialist.
The retailer is also upping the focus on Ocado Retail, with new boss Hannah Gibson spearheading a review of the joint venture with a view to increasing both online and in-store sales.
With 75% of the M&S food range currently offered through Ocado, the aim is to increase this to nearer 100%.
Sales of M&S products on Ocado.com have hit £1.3bn since the launch of the joint venture in 2020. Machin reportedly wants to get to 700,000 orders a week, just over double the 367,000 orders achieved in the last quarter of 2021/22.
Driving efficiencies, M&S is also re-platforming its legacy operating system to the Ocado Smart Platform this year.
M&S is expected to deliver another encouraging set of full-year results in May, Rowe's conviction that its unconventional management structure would enable senior leadership to cover more ground by virtue of their individual experience, would appear to be well-founded. A lesson perhaps for other legacy retailers trading across multiple sectors.
Want to find out more about M&S and our forecasts for growth?
A subscription to Retail Week Prospect gives you all the retail intelligence you need in one place about hundreds of retailers, including in-depth analysis of strategy, financials and company outlook.
If you'd like to discover how Retail Week Prospect can help you, please request a demo to find out more.