A 'dead heat' has been called between Tesco and Sainsbury's by Kantar Worldpanel after releasing data which showed the archrivals recorded identical growth rates over Christmas.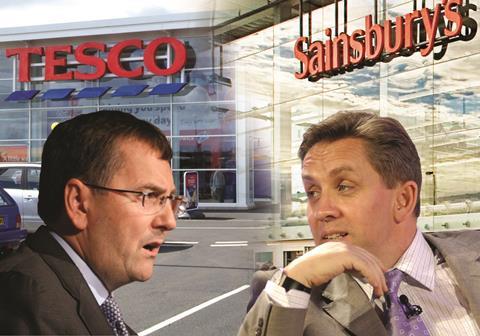 Tesco and Sainsbury's grew sales 3.9% in the six weeks to January 6. Asda sales grew 2.1% while Morrisons' sales contracted 1%.
Kantar said the small Asda share dip from 17.9% to 17.7% represents a "bedding-in" of the Netto acquisition.
Kantar Worldpanel director Edward Garner said: "These festive trading figures show a dead heat between Tesco and Sainsbury's in the battle for Christmas. Both posted identical growth rates of 3.9% – just ahead of the total market – and market shares unchanged from a year ago.
"This represents a clear improvement in Tesco's fortunes following a series of share dips in 2012 but it is also a strong performance from Sainsbury's which had been predicted to suffer disproportionately from the Tesco fight-back by some commentators."
Sainsbury's chief executive Justin King said the grocer was the "Christmas winner" in the run-up to the big day. Tesco has reported the strongest like-for-like figure of the grocers which have already reported their Christmas trading figures however the trading periods were not identical.
Garner added: "Waitrose's strong performance over the seasonal period is reflected in its 8.6% growth rate, which is over twice the market average. Although this six week report is, strictly speaking, not comparable with our usual 12-week series it is worth noting that the Waitrose share is higher than any previous share we have reported for the retailer.
"Elsewhere, shoppers continued to seek value for money with ongoing positive performances for Aldi, Lidl and Iceland."
Total Till Roll - GB Consumer Spend
6 Weeks to 08 January 2012
6 Weeks to 06 January 2013
% Change
% **
% **
%
Total Till Roll
2.2
Total Grocers
100.0%
100.0%
3.8
Total Multiples
98.2%
98.1%
3.8
Tesco
30.0%
30.0%
3.9
Total Asda
17.9%
17.7%
2.1
Asda
17.9%
17.7%
2.1
Netto
0.0%
0.0%
n/a
Sainsbury's
17.1%
17.1%
3.9
Morrisons
12.5%
11.9%
-1.0
The Co-operative
6.3%
6.1%
0.7
Co-operative
6.3%
6.1%
1.0
Somerfield
0.0%
0.0%
-100.0
Waitrose
4.6%
4.9%
8.6
Aldi
2.6%
3.2%
30.5
Lidl
2.5%
2.7%
11.2
Iceland
2.2%
2.3%
9.0
Farm Foods
0.5%
0.4%
-14.3
Other Multiples
1.8%
1.8%
1.0
Symbols & Independents
1.8%
1.9%
4.6
** = Percentage Share of Total Grocers