The heat wave has driven a boom in fresh food and drink sales with Waitrose, Marks & Spencer, Sainsbury's and Aldi enjoying strong growth.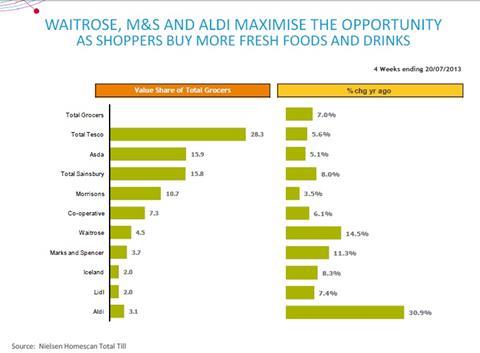 Food retail sales grew 6% in the four weeks to July 20 as the grocers enjoyed growth which was almost twice that achieved during the London 2012 Olympics, according to Nielsen.
Nielsen expects growths to moderate to around 3.5% growth for the following four weeks.
Nielsen said promotional activity fell slightly to 34% of all FMCG sales and with vouchers and coupons continuing to be used by most retailers.
Aldi enjoyed the strongest growth with sales up 30.9%, Waitrose rose 14.5%, Marks & Spencer was up 11.3% and Sainsbury's 8%.
Tesco's sales rose 5.6% while Asda's increased 5.1%. Despite solid growth Nielsen said the UK's two largest grocers "didn't benefit as much from the surge in spend that the summer weather delivered for some other retailers".
Morrisons sales rose 3.5%, Co-op 6.1%, Iceland 8.3% and Lidl 7.4%.
Tesco remains the clear market leader with a 28.3% share ahead of Asda with 15.9% and Sainsbury's 15.8%.
Overall, the July heat wave was a much needed catalyst for growth for food retailers and as we enter the holiday period, Nielsen expects growths to moderate to around 3.5% for the next four weeks.