Some of the industry's leading chief executives have come together to debate the future of loyalty in the new world of retail.
RWRC's virtual event, The new rules of loyalty, which you can watch on-demand here, took a deep dive into understanding the emotional drivers of the 2020 consumer, particularly in the wake of the global pandemic.
"People often confuse loyalty with points, vouchers and rewards and that's an important function of any loyalty programme but you have to first understand behaviour," Peter Pritchard, chief executive of Pets at Home, told the audience.
The way in which the pet retailer adapted to changing demands around the Covid-19 crisis had nothing to do with trading, explained Pritchard, but with understanding how people felt.
"Our focus went on to safety, reassurance, providing support for NHS workers and people who were vulnerable," he said. "And these things you might say don't have anything to do with loyalty but I'd say they have everything to do with loyalty because it's about focussing on the things that really matter to consumers."
Pritchard added that where loyalty really comes from is "having an understanding of the needs and the environment of your consumer and responding accordingly".
Marketplace BrandAlley has seen "significant growth" this year partly due to increased communication with its customers, which has too helped drive loyalty, according to it chief executive Rob Feldmann.
He said: "We've adjusted by doing more communication with our customers in terms of delivery times and really trying to engage with them and offer product that is very relevant to their lifestyle."
In March, as coronavirus began to take hold in the UK, the fashion etailer changed the tone of its marketing away from promoting £500 handbags and towards taking care of shoppers' homes. "That emphasis on marketing went down very well with our customers as they appreciated that we tried to be in line with their new lifestyle," added Feldmann.
Communication has been a real loyalty booster at SilkFred too.
"With Covid19, selling and buying dresses isn't at the forefront of people's minds," said Emma Watkinson, the fashion brand's co-founder and chief executive. "So you need to be careful about the tone you strike with your customers."
"We did what we always did and just asked them what they wanted to see. We kept really close to the customer," said Watkinson.
Coveo business lead Ben Wilde added that retailers must understand the behavioural patterns of consumers and respond to them quickly.
He said: "Loyalty is a result of positive experiences and a positive experience is driven by achieving a successful outcome as easily as possible and by removing friction."
Personalisation is one way of achieving this the panel said. In offering a more personalised service, you can provide a better experience and therefore keep customers coming back.
"Drive the experience, help them achieve a frictionless outcome and the loyalty will come hand in hand," Wilde said.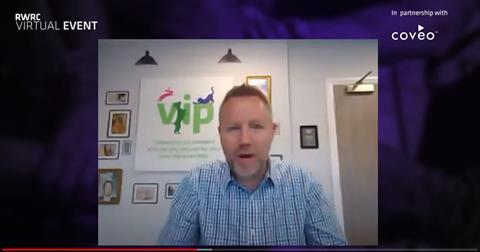 Want to hear more about how retailers are building emotional connections with consumers? Click here.
You will discover:
The role of personalisation in driving experience and loyalty
How retailers adapted to life in the midst of Covid-19
What you can do to drive loyalty