Retailers are investing in cutting-edge customer experience technologies to drive demand and be front of mind for consumer spend.
That is among the key findings of a new report from Retail Week that reveals that 52% of retailers are prioritising spend on consumer-facing technologies compared with just 6% who are solely focused on back-end solutions. The remaining 42% are splitting their investments evenly between the two.
Produced in association with Checkout.com, The Digital Spend Report: How 50 retail leaders are investing in frictionless tech futures, features exclusive insights from senior technology leaders on their tech investment priorities.
It highlights how areas such as personalisation, digital payments and customer service are receiving the bulk of technology investments as retailers compete to deliver a slick, seamless customer experience in the battle for consumer spend.
There is no sign that soaring input costs are causing retailers to rein in their investment in technology. On the contrary, the report shows that almost every retailer among the 50 surveyed has increased spending on technology during the past two years – some by more than 50%.
Retailers are refusing to stand still despite inflationary pressures with 36% reporting a "very high" appetite for risk in investing in new technologies and 46% a "high" level of risk.
Pets at Home is ploughing £20m into Polestar, a transformational initiative to provide a digital interface capable of integrating services across its retail, grooming and veterinary care brands into a single, customer-managed dashboard.
Amazon and Apple have joined a host of specialists such as Klarna and Clearpay in looking to capitalise on the growth of buy now, pay later (BNPL) technology by offering customers the opportunity to pay for goods automatically in monthly instalments.
Investment is also pouring into back-end technology solutions. Ocado recently unveiled seven key tech innovations including the Ocado Swift Router, which allows last-minute, short-lead-time orders to be picked, packed and delivered alongside larger, longer-lead-time orders on the same grid and via the same van.
Also featuring the likes of Tesco, Marks & Spencer and The Very Group, The Digital Spend Report reveals how leading retailers are looking to get ahead of the competition and be front of mind for consumer spend by investing in sophisticated tech solutions.
It concludes with five key takeaways for retailers wanting to stay ahead of the technology curve.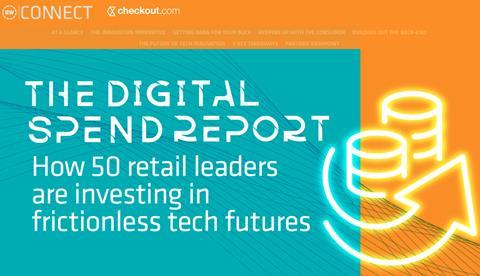 Access The Digital Spend Report: How 50 retail leaders are investing in frictionless tech futures today to explore the full findings of the exclusive survey on retailers' tech investment priorities.
You will also:
Discover what will be the key drivers of retailers' technology investments over the next 18 months
See how the balance is shifting away from in-house legacy IT systems towards cloud-based software
Learn about the importance of investing in future trends like hybrid experiences and social shopping

Checkout.com is a global payments solution provider that helps businesses and their communities thrive in the digital economy. It provides the fastest, most reliable payments in more than 150 currencies, with in-country acquiring, world-class fraud filters and reporting through one API. Checkout.com can accept all major international credit and debit cards, as well as popular alternative and local payment methods. The company launched in 2012 and now has a team of more than 1,700 people across 19 offices worldwide, offering local expertise where it's needed.