The all-important festive ad – Retail Week finds out what it takes to get it right
The annual reveal of Christmas adverts on TV has become synonymous with the start of the festive season. The right ad – one that is emotive, funny and enticing – can capture both consumer imagination and spend.
The golden quarter is the most important financial period for retailers, so it is imperative they strike the right tone in their Christmas ads. John Lewis has long been celebrated for its emotional narratives, often applauded for successfully striking the right note with its marketing message to the nation.
Trouva head of brand Jennifer Hore agrees that Christmas adverts can be powerful brand-awareness tools, setting the mood for the season ahead.
"A reflection of the zeitgeist, these emotive messages can capture an audience's imagination – whether that's tapping into the nostalgia of the holidays or the drive to be more charitable and community-minded," she says.
"There is a place for Christmas advert marketing to raise brand awareness, but retailers need to be empathetic to where consumers are at the moment"

Richard Lim, Retail Economics
There are, however, some that get the message wrong, showing ignorance and misunderstanding of the mood of the nation. Indeed, as the UK continues to brace itself against ongoing macroeconomic factors such as Brexit, the Russia-Ukraine war and the global supply and cost-of-living crises, it seems that 'conscious marketing' will be key in 2023.
Retail Economics chief executive Richard Lim agrees: "There is a place for Christmas advert marketing to raise brand awareness, but it has to be done in the right way and retailers need to be empathetic to where consumers are at the moment."
While it's clear that getting the right tone and correct messaging across is critical, last year's Christmas adverts were a mixed bag.
For example, Sainsbury's was criticised across the media for depicting an opulent scene of an expensive Christmas dinner while consumers struggled with tough economic conditions. This was in contrast to John Lewis, which struck a more empathetic tone and delivered a heart-warming message about its social conscience, rather than pushing product.
So who else got it right in 2022? According to Statista, it was the retail sector that won the hearts of the nation, with 10 of 2022's most beloved Christmas ads produced by retailers.
Statista data highlights the top 10 adverts by social media views as of November 2022, with John Lewis taking the top spot at 19.3 million views, followed by Aldi at 17.1 million views, Disney at 5.5 million views, Asda at 3.1 million views and M&S at 1 million views, making up the top five.
Sainbury's, Boots, Morrisons, Lidl and Tesco took up places five to 10.
Consumer focus group: what makes a successful ad?
Retail Week asked a consumer focus group from differing demographics across the country to give a retrospective overview of their favourite Christmas adverts from 2022. The group looked at how these adverts will play into engaging consumers in 2023 and what messaging might resonate best this year.
The panel
Dave Close, 43
Nick Crawn, 68
Chloe Kent, 22
Gemma Meyer, 42
John Lewis

Nick Crawn: "This advert didn't focus at all on John Lewis' Christmas products but on its support of children in care. I have no idea to what extent this is true, but the ad succeeded at highlighting that Christmas is not just about consumerism but about care and kindness. As such, it's the one I will remember the most."
Gemma Meyer: "John Lewis never disappoints with its sentimental, pull-at-the-heartstrings short story advert tradition. It made me feel a bit emotional and I'm sure there are some consumers with an ethical conscience who would feel persuaded to buy from John Lewis, rather than a competitor, because they support such a worthy cause."
Sainsbury's

Nick Crawn: "The period theme was entertaining, especially when combined with the very northern countess. I also noted that, when asked to bring something better, the chef returned not with something altogether different, but with the same product, only much improved. This cleverly sowed the idea that Sainsbury's products, particularly its Taste the Difference range, were tastier. On the downside, the advert, with its high-end food products, may have left the cash-strapped consumer feeling they could not aspire to this level of luxury."
Gemma Meyer: "I appreciate we're in a cost-of-living crisis and this was not taken into account at all – which is at the centre of the message for many of its competitors. However, many families see Christmas as something to push the boat out for and buy the special option 'because it's Christmas!' So I feel Sainsbury's had its target market in mind and this must have been a successful campaign. I, for sure, bought into it."
Marks & Spencer

Nick Crawn: "This was obviously a high-end, expensive production using well-known voices and caricatures of popular celebrities. The ad was humorous and held the attention throughout. The images of the food were enticing, although clearly very specialised and almost certainly expensive. Despite this, as Christmas is a special occasion, if I had an M&S near me, I'd probably have paid a visit to check out the products."
Gemma Meyer: "Nothing about this advert screams the reality for many of eating or heating so, like Sainsbury's, I think M&S knows who its target consumer is, and it makes no apology for that."
Chloe Kent: "I thought this advert was very child-friendly and full of information for the viewer/buyer."
Very
Nick Crawn: "A relatively brief but quite cheery ad that emphasised the family element of Christmas. The piece-to-camera brought in a level of intimacy and engagement with the audience that is missing from some other ads."
Gemma Meyer: "The advert matches the tone of the economy in that it makes it very clear that you can split the cost of Christmas into monthly instalments, something that would be appealing to many present buyers at Christmas when spend is high."
Chloe Kent: "As a parent of young children, this advert would make me visit the website as Very offers variety, so I would be able to buy lots from one seller rather than little from multiple shops."
TK Maxx
Nick Crawn: "The advert was colourful and vibrant with a good music track, so at that level it held my attention. However, the theme of high-fiving had insufficient link to the product and was a forgettable part of the advert. This narrative would neither encourage nor discourage me to use TK Maxx. From the point of view of promoting the store it felt instantly forgettable."
Gemma Meyer: "I found the concept confusing; I have no idea how all the high-fiving fits into Christmas. The music isn't Christmassy, just rather annoying. If you removed the odd candy cane and bit of snow, it could be any other advert at any other time of year. I watched it three times to try to make sense of it, and have decided to put it in the annoying advert camp."
Boots
Dave Close: "The music to this advert is great – it's very catchy and memorable. However, it didn't really make sense. I watched it a number of times and didn't get the meaning or relevance and wasn't sure what was being advertised."
Chloe Kent: "The messaging was clear that it was product-oriented as that's the first thing that appears on screen. However, it felt quite pushy as there was no real information – it just flashed the product at you."
Nick Crawn: "The notion that they were magic glasses that changed perspective was a little confusing. I wasn't clear what point was being made. Overall, the ad left me feeling quite indifferent, with little emotional impact or desire to rush to Boots."
Gemma Meyer: "The story was a bit different and gave off nice vibes. It had good product placement in the advert that showed the consumer that they have gifts to suit all budgets, from bubble bath to Dyson hair dryers. I'd be encouraged to have a browse around Boots to see what Christmassy bits they had in."
Aldi
Dave Close: "I always look forward to and enjoy the Aldi adverts as they're fun and I like the Kevin characters. As such, I have in the past bought items based on the adverts. This advert was Christmassy and funny, and I liked the play on the film Home Alone. The food was well advertised and made me want to shop there. I also like that Aldi is supporting and promoting community."
Nick Crawn: "I found myself thinking this is a somewhat patronising advert. Playing on the Home Alone movie was primarily directed at children and I found myself losing interest. Any interest I did have was to be found in critiquing the somewhat banal voiceover poem that lasted through the whole piece."
Sports Direct
Dave Close: "I just didn't get this ad and I didn't see the relevance to Christmas – it didn't make sense. Why were the ex-football players there, who was the woman and why did he keep shouting 'football' via Alexa? This would not make me want to shop there."
Chloe Kent: "While I have often shopped at Sports Direct in the past, this advert certainly wouldn't entice me in if I were a potential new consumer. It was only Christmas-related at the start and overall had quite a confusing concept."
Gemma Meyer: "This ad isn't particularly inclusive as it had no female football players. However, as it would have been aired at the time of the men's World Cup, it was very topical."
Nick Crawn: "With a heavy reliance on ex-footballers, this advert might draw the attention of a certain age and generation, but I felt it needed a more contemporary feel to be truly relevant to the demographic that Sports Direct is trying to reach. The heavy-handed attempt at humour through sniffing the boot didn't really work for me and I mainly reflected on how much money these fortunate footballers received for their brief cameo appearances."
Winning spend in 2023
Looking ahead, what can retailers do to win spend this golden quarter via their Christmas adverts as well as drive loyalty ahead of the season to maximise profit?
Humanising Brands chief behavioural officer and founder Kate Nightingale says some consumers have become distrustful towards brands. With this in mind, retailers should ensure their Christmas marketing is truly aligned to their target audience.
"Those that create Christmas adverts that feature brand ambassadors who are truly representative of their customers and employees will be the big winners," she says.
"This means a wide diversity across age, all gender identities, racial, cultural and religious backgrounds, disabilities, neurodiversity, LGBTQ+, subcultures, economic backgrounds and much more."
Shop early
Consumers are increasingly extending the period in which they shop, with Cyber Week (November 24 to 27 for 2023) steadily marking the start of spending. Marketing messages should therefore continue to be developed earlier.
Papier chief marketing officer Colleen Conkling expects to see holiday messaging begin in earnest ahead of December, as this shop-early mentality becomes engrained with consumers.
Papier has therefore considered how to connect with consumers, not just through traditional gift-giving Christmas ads, but also through the plans, preparations and productivity that lead up to the season. "Such as remembering to buy holiday cards extra early, so you spend less time on your holiday to-do list and more time celebrating with family and friends," says Conkling.
While Trouva's Hore agrees that, due to the current need to make household finances stretch further, it is likely that consideration around gifting will start earlier than ever, with adverts following suit, she notes that formats may be the differentiator as "affiliate partnerships, content creator collaborations and short-form video take priority for retailers".
Considering all channels
When it comes to format, the medium of Christmas advert delivery is an important consideration for retailers.
Debbie Oates, director of customer engagement at Experian Marketing Services UK, highlights that, while there is no doubt that Christmas ads and their wider supporting campaigns will be viewed across a broad range of channels, social media has influence across the board, especially in the younger age groups.
Therefore, as well as longer Christmas TV ads, it is important for brands to create consistent and easy-to-digest content that is suitable for use across other media.
She adds: "Importantly, consistency of thinking also needs to impact the audience planning across channels to make sure marketing budgets are being used most effectively – otherwise brands invest in expensive campaigns but waste a considerable proportion of their budgets on the wrong audience.
"While top-level metrics, such as audience reach, may look great, badly targeted campaigns may fail to deliver on the bottom line."
"A good Christmas campaign signals the start of the season and builds the excitement. So ads are still hugely important, even though the channels and campaign activations continue to evolve"

Jessica Myers, Very
Oates also notes that we are seeing far more retailers and agencies leveraging third-party audience insight in their cross-channel campaign execution.
These insights cut across digital platforms, connected TV and digital out-of-home to ensure a consistent view of audience across all channels.
The Very Group chief marketing officer Jessica Myers agrees: "The families we serve – like so many people across the UK – are Christmas mega-fans.
"A good Christmas campaign signals the start of the season and builds the excitement. So ads are still hugely important, even though the channels and campaign activations continue to evolve."
Marketing message
It's been a rocky few years for everyone, given the current macroeconomic climate. Therefore, customers will continue to seek out purchases that bring comfort and are, most importantly, cost-effective.
Christmas ads this year will aim to reflect these desires by centring around community and the fun to be had with loved ones, regardless of circumstances, as well as smart ideas to make finances go further.
Myers concludes: "Retailers with campaigns that resonate with families will win a special place in their hearts. For retailers, it's all about sparking those festive feelings and joy while focusing – either implicitly or explicitly – on the things their customers care about.
"This could be ease of experience, the right choice of products and ways to pay or simply showing that, as a retailer, you truly understand them."
What you need to know
We share three ways retailers can nail their marketing message when it comes to Christmas adverts.
1. Consider the tone of the nation
Striking an empathetic and understanding tone while the country battles various challenging macroeconomic conditions is vital.
2. Embrace inclusion
Creating adverts that embody consumer diversity is no longer an optional angle – it's a marketing must-have.
3. Focus on community
Christmas is about loved ones, so creating adverts that represent scenes of families and communities in all their iterations will strike the right note with consumers.
Retail's most lucrative time of the year, the golden quarter has the power to make or break businesses – so nailing your strategy is essential.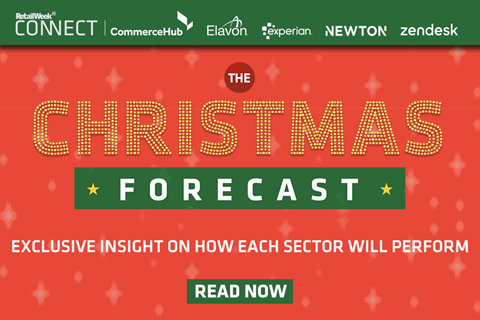 The Christmas Forecast 2023
Retail Week's The Christmas Forecast report, featuring exclusive data from leading market insight provider Retail Economics, will help you navigate the golden quarter to drive success.
The report reveals that fashion will see year-on-year sales value growth of 6.2% in the fourth quarter, of course helped by high levels of inflation of 4.5%, with volumes growing by 1.7%.
Demand will also be strong in the health and beauty sector, due to the non-discretionary nature of many products within this category. The value of sales in this sector is expected to rise by 5.9%, with volumes also rising by 0.4%. Inflation is set to be 5.5%.
To find out more about what to expect from trading this festive season, access your copy of The Christmas Forecast report for free and discover:
Forecasts on how the food, toys and games, furniture and flooring, homewares, DIY and gardening, and electricals sectors will perform
Data on how consumers are feeling about the economy and their finances
Expert insight from eBay, Dobbies, Gift Universe, Asda and more on their Christmas strategies