Asda create the the UK's biggest Christmas jumper; Marks & Spencer's nightmare plumbing before Christmas; and DFS signs as an Olympic sponsor.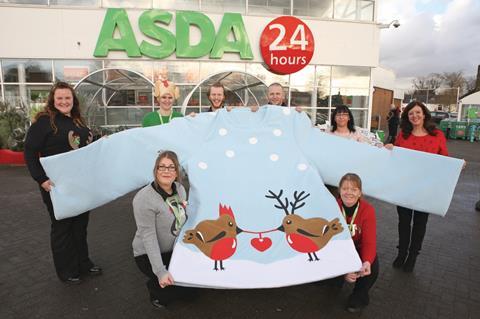 Asda staff have thrown themselves into the spirit of the season by creating what they believe is the UK's biggest Christmas jumper.
The sleeves of the jumper, which took 12 staff from Asda Bolton a month to make, span a massive 14ft. The stunt is intended to raise awareness of George's range of Save the Children Christmas jumpers. No word yet on the RRP.
Plumb puddings
Marks & Spencer's annual press dinner is fast-becoming an institution and manages to attract all the top business hacks.
However, hearts were sent a-flutter in the retailer's head office when only hours before the dinner plumbing problems on the seventh floor rendered the venue unusable.
But with typical British stiff upper lip M&S decided the show must go on.
Luckily for the retailer it has a spare building round the corner. Staff were turfed out of the canteen while having their lunch so the M&S fairies could work their magic to make the place look festive for the world-weary journalists.
Spare a thought for M&S finding a decent plumber at this time of year.
Couch trip
Britain's Olympic athletes are possibly the last people you would expect to be couch potatoes.
Nevertheless Team GB has obviously decided the country's finest athletes need to be comfy.
It has landed sofa retailer DFS as official homewares partner for the 2016 Olympic Games in Rio de Janeiro.
British Olympic Association chief executive Bill Sweeney believes DFS will play a "key role" in the "unchartered territory" of Brazil.
DFS has pledged to do its utmost to help Olympic athletes emulate the performances of London 2012.
The retailer's chief executive Ian Filby says DFS will make the next Olympics a home away from home for the Brits abroad.
Let's hope the athletes don't get too comfortable and manage to drag themselves away from their couches to take part in a spot of training.