Building loyalty and reputation – and why it matters more than ever
How do you build a trusted go-to brand? Look no further for the answer than our latest report, which reveals who the UK's most trusted retailers are and why.
We asked 2,000 consumers in July 2021 to reveal which retailers they trust, what makes a brand trustworthy and what would lead customers to feel wary about them.
So who topped our poll and how can others emulate their success? Find out in our new report The 20 Most Trusted UK Retailers.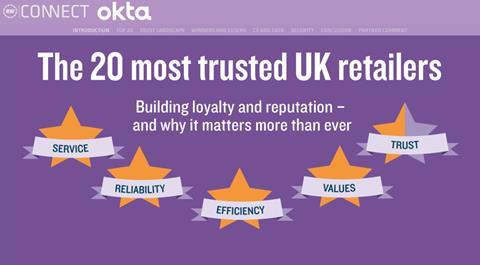 Access The 20 Most Trusted UK Retailers for free to uncover:
What leading retailers such as Asos, M&S, John Lewis and Boots think about trust
How to build it back after a breach
The importance of security and strong data management when it comes to building trust

Okta is the leading independent provider of identity for the enterprise. The Okta Identity Cloud enables organisations to securely connect the right people to the right technologies at the right time. With more than 6,500 application integrations, Okta customers can easily and securely use the best technologies for their business.