Latest news, insight and analysis on Bhs
Fashion, furniture and homeware retailer Bhs was integrated into Arcadia Group Ltd in 2009. Bhs Ltd UK sales were a reduced £740m in 2010/11 through about 180 outlets. There are also 100 international franchised outlets.
Game-changing innovations in the mall market have masked a lack of innovation in retail parks. Is the sector ripe for a leap forward?
My financial adviser recently asked me what retail stocks he should buy.
Full company profile for Bhs, including: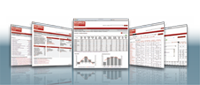 Powered by: