Latest news, insight and analysis on Bhs
Fashion, furniture and homeware retailer Bhs was integrated into Arcadia Group Ltd in 2009. Bhs Ltd UK sales were a reduced £740m in 2010/11 through about 180 outlets. There are also 100 international franchised outlets.
After a turbulent period during the recession, Habitat appears reinvigorated as it celebrates an eventful 50 years in the home retail market.
My financial adviser recently asked me what retail stocks he should buy.
Full company profile for Bhs, including: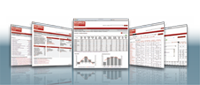 Powered by: