PAID FOR POST
The Hermes Supply Chain Blog on Retail Week
As the retail calendar rolls into November, retailers are once again bracing themselves for Black Friday.
Love it or hate it, it looks like Black Friday is here to stay.
Shoppers seem to have embraced it. More than a quarter of UK adults intend to buy something on either Black Friday or Cyber Monday this year and expect to spend an average figure of £203 according to a survey conducted for PwC.
Much like last year, online appears to be the shopping channel of choice on Black Friday, with 77% of shoppers planning on clicking onto some bargains on the day. This compares to just 17% in store.
Those images of people brawling over tellies in Asda have clearly not been forgotten.
Are you prepared?
The migration of Black Friday to online puts massive pressure on the delivery network. However, retailers and couriers should be more prepared this year.
The eerily quiet high streets last year were a shock to the system. Most were expecting crowds to be battling out for that telly again. Now most retail-watchers see the shopping phenomenon as a predominately online event.
Smart retailers are trying to smooth the enormous peak of Black Friday by extending the discounting event
Retailers still have the tricky business of predicting demand and what the delivery mix will be between collection and fulfilment to home.
But retailers and couriers alike have made investments in better planning tools and a lot more data sharing across the supply chain is making forecasting more accurate.
Tailoring your Black Friday offer
Smart retailers are trying to smooth the enormous peak of Black Friday by extending the discounting event.
Dixons Carphone is running a full week of promotional deals and Amazon has already kicked off its Black Friday event, which will last for a whopping two months this year.
Spreading out trade should relieve some pressure on couriers, however, similar week long bonanzas were launched last year and still shoppers waited until Black Friday itself to snap up bargains.
A sensible move would also be to extend your delivery promise. Customers are already happy at grabbing a great deal, do they really need to receive it the next day? If pre-warned that delivery will take longer than usual, I suspect most shoppers will be understanding and happy to wait for those cut price trainers.
It might also make sense to switch off next-day delivery during this chaotic time for the courier network.
Black Friday will undoubtedly throw up some unique and unforeseeable challenges, but the supply chain industry is surprisingly agile. Just think, delivering Christmas will be a breeze in comparison.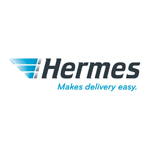 Hermes' vision is to be the carrier of choice for every end customer in the UK. The company currently delivers parcels on behalf of 80% of the country's top retailers and etailers.