Waitrose has suffered a blow after customers complained of problems on its new £10m website, which was launched with much fanfare two weeks ago.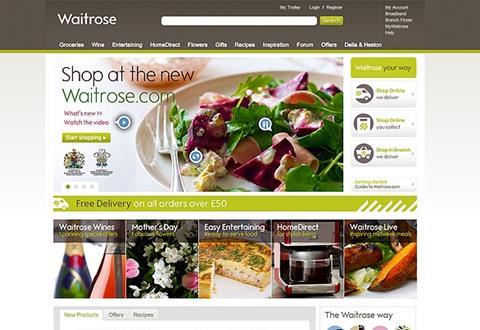 Waitrose.com went live ahead of the grocer's roll out within the M25, which will mean it goes head to head with Ocado.
However, the grocer has faced a barrage of criticism from customers about the usage, with some saying they are defecting to other grocers.
A spokeswoman told The Guardian: "Following one of the biggest retail web changes ever, we're having some problems with our new website and would like to apologise for the inconvenience and frustration this has clearly caused some of our customers.
"However, we're seeing unprecedented volumes with orders up by almost 34% on the same time last year, so clearly the vast majority of shoppers are getting on well with the new site, but we're working hard to correct the issues others are experiencing as fast as we can."
The troubles will be welcome news for Ocado. There had been concern that shoppers of Ocado, which supplies Waitrose products, would defect to Waitrose now it is delivering within the M25.
One customer said: "After two hours, I don't know what I have ordered and what I haven't. I pasted my list into Tesco's shopping list and completed the order in less than 15 mins and 10% cheaper than Waitrose including their delivery charge. So it's goodbye from me!"
However, another shopper wrote: "I don't know what all the fuss is about. Yes it's a new website and as such it takes longer to do your shopping but only until you get used to it. I have just had a delivery with no problem whatsoever! Those of you defecting to Tesco etc should try to remember how long it took to order on that old website the first time you did that."