PAID FOR POST
More voices from the retail industry
With elevated levels of online sales here to stay, retailers must adapt to maintain their competitive edge, says David Morton, sales and solutions director at Arvato CRM Solutions UK.
Transforming customer-experience models is going to be key to enable brands to meet consumer demands, as well as to retain customers and increase revenue.
Here are three areas where customer experience needs to evolve to help retailers thrive in the current and future retail landscape.
1. A shift to experiential retail
Much has been written about the challenges for bricks-and-mortar retail in the age of ecommerce – in December 2020, ecommerce accounted for 31% of total retail sales, more than double that of December 2015.
However, rather than slowly declining into irrelevancy, physical outlets are taking on a new vital role in the customer purchasing journey.
While online and physical retail have traditionally sat separately, they will become increasingly integrated in a shift towards experiential retail.
The luxury and high-end brand sector can't expect to be exempt from changes in purchasing preference, either. Customers still want to touch and see products they are buying, and seek immediacy and intimacy with their favourite brands.
Through their high street stores, retailers can continue to provide this physical dimension, but the opportunity goes beyond tactile engagement.
With brands facing growing pressure to demonstrate their social and environmental sustainability credentials, retailers can consider using existing stores as a window into their brand beyond the product.
This could mean providing experiences in store that help customers build a genuine connection with a brand – for example, understanding how a product is made or where materials are sourced – which, in turn, helps to boost customer loyalty and support retention.
2. A drive for hyper-personalisation
As Luke Schönenberger, senior ecommerce manager at Benefit Cosmetics UK and Ireland, pointed out in Arvato's recent report on the future of retail customer experience, it won't be long before generic, site-wide merchandising in retail is a thing of the past.
The same applies to customer experience. Brands are being challenged to meet demand for 'hyper-personalisation' – addressing customers' specific needs across every channel – and adapting to changes in real time.
Adapting will pay dividends. Research has found that 80% of customers are more likely to do business with a company if it offers personalised experiences.
"Using data, brands can tailor their communications, product offerings and approach to meet a customer's needs"
Any personalisation is underpinned by insight. Retailers' ability to deliver hyper-personalisation hinges on their ability to gather data from customer touchpoints to build a 360-degree view of their customer. This can be time-consuming and labour-intensive, but technology can help.
Effective techniques include robotic process automation (RPA), which continually extracts and processes large volumes of customer data from a range of touchpoints into a central customer relationship management (CRM) system.
Using data, brands can tailor their communications, product offerings and approach to meet a customer's needs.
This could mean recommending products that complement items a customer has recently purchased or sharing bespoke, one-time offers in recognition of personal milestones with the brand, such as volume or value of purchases.
3. Bridging the reactive-proactive gap
As consumer demands and preferences evolve, no longer can brands' customer-experience functions operate solely on a reactive footing. Retailers are increasingly alive to the opportunities of using them proactively to support sales functions.
AI and systems such as predictive behavioural omnichannel routing and customer-journey analytics are useful to analyse data and generate insights and foresights for agents in the form of recommended 'next-best actions'.
This enables agents to resolve customer issues quickly or tackle potential issues before they even arise, resulting in reduced customer effort.
"Some brands are racing to catch up, while others are considering how to capitalise on new-found success"
By combining AI and technology solutions with a 360-degree view of information on customer preference, habits or historical behaviour, brands can also generate relevant promotions and offers tailored specifically to individuals in real time, strengthening the impact of their proactive sales activity.
In a turbulent economic environment, some brands are racing to catch up, while others are considering how to capitalise on new-found success.
How effectively brands manage their future customer experience transformation will have a real bearing on their competitiveness. Delivering proactivity, personalisation and promoting value-led customer experience will help put them on a strong footing for success.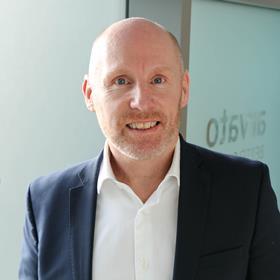 David Morton is sales and solutions director at Arvato CRM Solutions UK
David Morton is responsible for driving sales and developing Arvato's solutions across customer services, business process outsourcing and intelligent automation. Throughout his extensive experience he has led strategic engagement with some of the most respected global consumer brands, together with a broad range of innovative public sector clients.
With more than 25 years' experience in outsourcing, he has held senior sales and business development roles with leading providers in the industry and is passionate about driving strategic value for clients through digital transformation powered by people, to improve the agent and customer experience.

We are Arvato CRM Solutions. We design and deliver award-winning customer service and back-office processing services for some of the world's most respected brands.