Game has launched a social network-style careers website, which the retailer claims is a world first.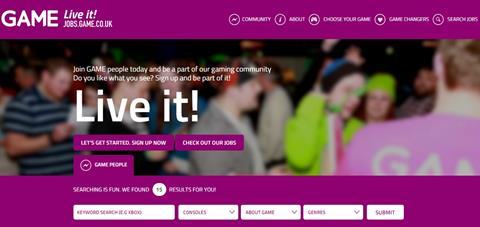 The gaming specialist hopes jobs.game.co.uk will work as an engagement tool rather than a traditional job site.
By registering their details, users add to a talent pool for recruiters to access, while the collaborative news board brings job seekers tailored content and targeted vacancy alerts.
As well as receiving the most up-to-date job postings and gaming news, users can create a mini-me icon and chat with other users in the Game community.
Game HR and recruitment business partner Sharon Johal said: "The career website fits perfectly into the new strategy of Game. Engagement and community are central to everything we do. The look, the functionality and the makeup of the site have really exceeded all expectations."
In its first week since launch more than 1,500 contributors signed up to the community platform, which was created by Basis Media.
Game reported last month that gross profits will be up 9% for its second half, after prioritising its customer and community engagement strategy.
As part of its community push Game acquired games festival organiser Multiplay for £20m in March.
Game said the acquisition will "create a unique platform to expand significantly the group's community-events" and "drive deeper interaction with gamers".