Ocado is allowing shoppers use their Facebook profiles to shop the retailer's site and will ultimately look to sell products through the social media site.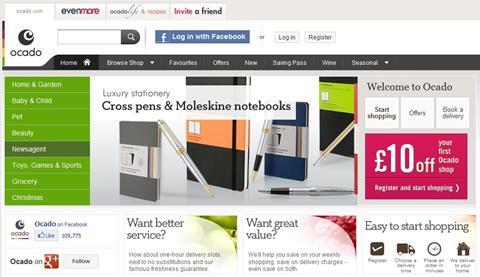 The online grocer has introduced a new service to allow customers to log into their Ocado account using their Facebook log in details.
It is hoped the innovation will become a further step to break down the walls of where customers can shop on the etailer.
Shoppers can already rate, review and 'like' Ocado products on Facebook and share them with their friends using frictionless sharing.
Ocado director of marketing and grocery retail Lawrence Hene said: "This means shoppers have one less thing to remember and their username details are saved."
Hene said: "Today you can just shop via our site and mobile apps, we won't want people to do a full shop on Facebook but on certain products it will work. At the moment you can add products from the Kellogg's All Bran website and we will want people to be able to add to their Ocado basket from our Facebook page or, say, Dove's."
Ocado will look to strike partnerships like the one with Kelloggs with other FMCG brands as it looks to make shoping "location agnostic", Hene said.
Several retailers including Asos already sell products through Facebook.
Hene said the retailer has almost sold out Christmas. It still has delivery slots on the December 20th and 21st and is holding back a handful of others in case it snows. It will employ a raft of when it's gone, it's gone deals on non-food in January to entice shoppers.