Argos is offering its Twitter followers the chance to shape the lives of the alien stars of its advertising in a new TV campaign that launches today.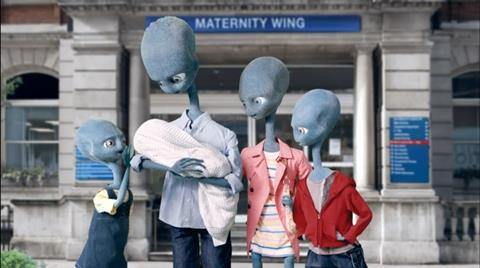 In tonight's ad, the alien family will learn they are expecting a new baby and viewers will be encouraged to vote on a name for the baby using the #nameourbaby hashtag. The winning name will be revealed in a second ad to launch on Saturday.
Alongside the new campaign, Argos has also launched a Twitter feed dedicated to the family (@ArgosAlien) – currently made up of Mum, Dad, Astrid and Rufus - that will allow fans to follow their adventures off-screen.
Argos head of brand marketing Carl Nield said: "We're really excited about taking a more traditional communications channel to a new level by integrating it with social media to engage and continue conversations online. Twitter followers will have the chance to influence our TV campaign and the development of our alien story and see this played out on their tablet and TV screens at home.
"Launching a dedicated alien Twitter feed also gives us a platform to talk to our consumers in a more emotional way and allow them to be part of our alien story. We can also utilise the alien family's lifestyle to help position how customers can benefit from the value, convenience and wide product range offered by Argos."