Latest news, insight and analysis on Argos, part of Home Retail Group
Home Retail Group comprises Argos, the UK's only high street catalogue retailer and Homebase, the second largest DIY specialist chain. Argos sales have declined in three of the latest four years, with the rate of decline having accelerated sharply in 2011/12 and profits having slumped. Argos sales were £3.87bn in 2011/12 (-8.9% LFL) through just under 750 outlets and its important website.
Dragons' Den-style pitches from tech start-ups are just one of the new ways for retailers to harness innovation. Jon Severs finds out how retailers' relationships with their technology suppliers are changing for good
The old Appliances Online business may have changed its name to the anonymous Ao.com but that hasn't changed its appeal to US Internet investors.
Full company profile for Argos, including: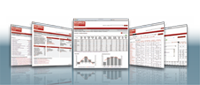 Powered by: