Latest news, insight and analysis on Argos, part of Home Retail Group
Home Retail Group comprises Argos, the UK's only high street catalogue retailer and Homebase, the second largest DIY specialist chain. Argos sales have declined in three of the latest four years, with the rate of decline having accelerated sharply in 2011/12 and profits having slumped. Argos sales were £3.87bn in 2011/12 (-8.9% LFL) through just under 750 outlets and its important website.
During his 15 years at the helm, Terry Duddy oversaw big changes at Home Retail. He might be moving on but shows no signs of slowing down, finds George MacDonald.
The pressures facing retailers continue to increase, with an emerging and increasingly polarised set of players.
Full company profile for Argos, including: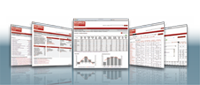 Powered by: