Latest news, insight and analysis on Argos, part of Home Retail Group
Home Retail Group comprises Argos, the UK's only high street catalogue retailer and Homebase, the second largest DIY specialist chain. Argos sales have declined in three of the latest four years, with the rate of decline having accelerated sharply in 2011/12 and profits having slumped. Argos sales were £3.87bn in 2011/12 (-8.9% LFL) through just under 750 outlets and its important website.
Mothercare's Matt Smith was given one of the top jobs in retail finance over the weekend when he was unveiled as the new chief financial officer of Debenhams.
When people think of Argos, that bastion of the high street, what usually comes to mind? I'd wager that laminated catalogues and small pens are uppermost in most people's minds.
Full company profile for Argos, including: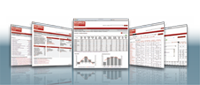 Powered by: